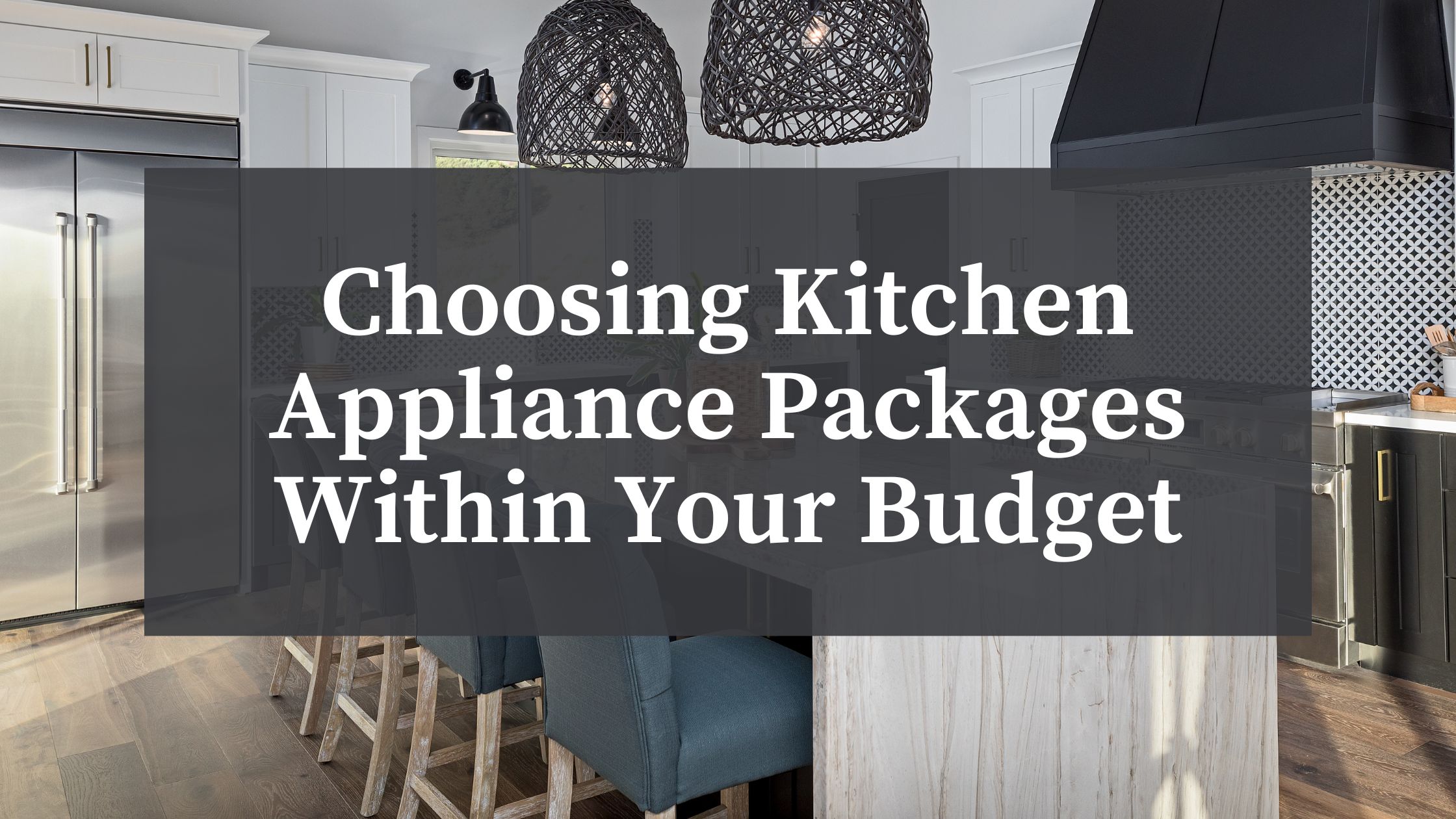 Don't Overspend on Kitchen Appliances
Choosing kitchen appliance packages within your budget is both an exciting but also possibly an exasperating task. Part of the problem is having options. These days, there are a lot of options for choosing kitchen appliances. But the danger is, you can easily get sucked into things you really don't need and sometimes really can't afford. Whether you are building a new house with a new kitchen or renovating an existing kitchen, choosing kitchen appliance packages within your budget helps ensure you get what you want without later risking buyer's remorse.
At BSC, it is our firm belief that high functioning as well as beautiful kitchen packages are attainable within a range of budget restrictions. In this post, let's take a look at how you can select the best kitchen appliance package for your family:
Look for reasonable compromises
Set a Budget
Generally speaking, spending on your kitchen appliance package amounts to anywhere from 15% to 20% of your total allocation to build the kitchen. That's not a hard or fixed number; it's just a starting point. If you've ever been involved in any new construction project, you know that there are always unforeseen costs or adjustments. Another general rule of thumb is that whatever you budget, you'll probably spend a little more. What you want to avoid is spending a lot more. Equally important is that you want to avoid settling for something less than you want or, even worse, spending more for something you ultimately don't really like.
Develop a Wish List
In tandem with setting a budget, develop a wish list. At this point, don't worry about what something might cost. You can always cross off items you can live without if you need to adjust to get within your budget expectations.
Make sure your wish list corresponds with how you actually intend to use the kitchen. If you entertain a lot and/or have a large family, having more than one dishwasher and even more than one refrigerator makes sense. If you primarily eat out, you certainly don't need a high-end stove, no matter how cool one might look. On the other hand, if you have the money to spend, and it's important to you to have a really cool looking stove, regardless of whether you'll use it much, by all means go for it.
If you're spending money on high-end cabinetry, then it usually makes sense to choose appliances with a complementary high-end look. If it turns out your budget doesn't allow for both, it's possible to get a less expensive kitchen appliance package that still looks good with the cabinetry. Or, maybe opt for less expensive mid-level cabinets to get the kitchen appliance package with the features you really want. It's a matter of creating balance.
Teachers often hand out assignments with the advisory phrase, "Be sure to do your research." That way you don't write a paper that makes conclusions out of sync with verifiable facts. It's the same way with choosing kitchen appliance packages. Do your research not just on the functions, looks, and prices of the appliances, but also do a little self-research to determine whether the bells and whistles under consideration match up to your own cooking and food preparation habits, as well as the needs of your family. Make a column of "must-haves" and "would-like-to-haves" and adjust the "would-like-to-haves" list as needed in order of priority.
For example, if some dream appliances in custom sizes are impractical for your budget, look at standard sizes you might eventually upgrade. An experienced kitchen designer can help you sort through various options to help give you a high-end customized look using standard kitchen appliance packages with a few customized tweaks.
Above all, visit showrooms to see what kitchen appliances actually look like and how they work. And talk to a kitchen expert to get ideas and discuss options.
Once you've researched your wish list to the point where it adequately reflects what you need and want, and the list fits within your budget restrictions, then it's time to start looking at corresponding kitchen appliance packages.
Entry-Level Kitchen Appliance Packages
A basic entry-level kitchen appliance package includes a range, over-the-range microwave, refrigerator, and dishwasher. It is also possible at this level to opt for a less expensive appliance from another manufacturer and still maintain a consistent look. Start with the range you like because that's most of your budget, then look at other options, such as a counter microwave instead of over-the-range. That said, sticking with a kitchen appliance package from one manufacturer might wind up saving you money in rebates for buying the package as opposed to purchasing individual appliances separately.
At this level, there are a lot of kitchen appliance packages to choose from, including LG, Whirlpool, and Samsung.
Mid-Level Kitchen Appliance Packages
Anywhere from $5,000 to $10,000 is considered the cost of a mid-level kitchen appliance package. Here you can consider luxury appliance brands such as Bosch or Cafe™. At this level, you can consider a better and wider selection of finishes, longer warranties, and features such as double-oven gas ranges with eight burners, or integrated dishwashers.
High-End Kitchen Appliance Packages
If your budget for kitchen appliance packages is $10,000 or more, you've got a lot more options for flexible placement and finishes to exactly match your design style and color palette. Feature-rich units include such options as separate cooktop and wall oven(s), induction cooktops, a wine cabinet, a column refrigerator and freezer, a speed or steam oven, drawers for refrigeration or dishwashing, and even advanced food-preservation technology for smart refrigerators. Brand names to consider include Sub-Zero, Wolf, and Cove, and Gaggenau.
Consult the Kitchen Appliance Package Experts
BSC offers a wide selection of kitchen appliance packages, many available with special promotions and rebates. We're here to help you choose the kitchen appliance package that best fits the needs of your family and delivers the highest quality and functionality for your budget.
Every kitchen appliance package we sell includes installation and delivery. A dedicated Enjoy Life Counselor ensures error-free delivery and installation. You can even track delivery on the day of the appointment.
BSC installation technicians are qualified and insured. Your kitchen appliance package is installed professionally and to your complete satisfaction. If you prefer, BSC can provide contactless delivery, a trend that started with the pandemic and that we are happy to continue to offer.
Contact us to further discuss how we can provide you with the best kitchen appliance package.