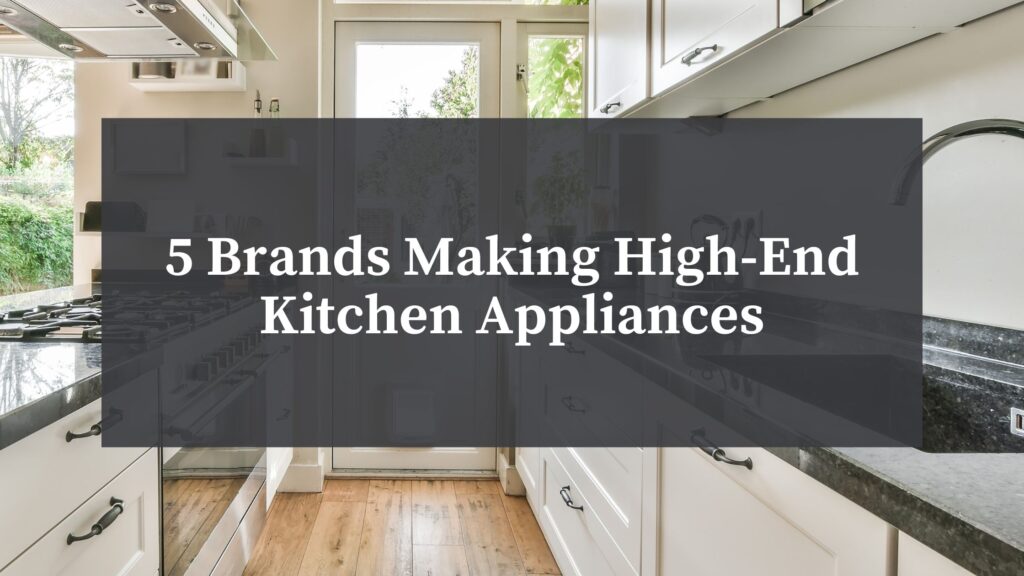 Kitchen Appliances that Define Luxury
Kitchen appliances are not just utilitarian tools to prepare food; kitchen appliances are also statements of your style as well as instruments that create exceptional experiences. High-end kitchen appliances deliver exceptional performance with extra amenities and features that make food preparation, storage, and clean-up easier and more efficient.
They aren't just an appliance, they are an investment. While it's true that high-end kitchen appliances cost more, it's equally true the investment pays off. High-end kitchen appliances are made from more durable materials than conventional appliances; consequently, they last longer, around 20 years or so, twice as long as less costly kitchen appliances.
Let's take a look at five brands making high-end kitchen appliances to watch in 2023.
Gaggenau
Gaggenau is the Mercedes-Benz of kitchen appliances. As you might expect from a German manufacturer, Gaggenau exemplifies precise engineering and innovation in producing a complete line of ranges, cooktops, dishwashers, wine cabinets, refrigerators, and freezers. Gaggenau home kitchen appliances are designed to perform exceptionally well, combining good looks with higher performance, with many of the same features as you'd find in a professional kitchen.
These Gaggenau capabilities define high-end. One innovation Gagenau recently featured on the Dezeen Showroom is an updated combi-steam oven that circulates steam instead of hot air, a process that better allows food to retain nutrients and color during cooking. In addition to an automated cleaning system, the combi-stove offers five humidity levels and exact electronic temperature control between 30 and 230 degrees Celsius.
Take a look at the Gaggenau appliances we carry at BSC.
La Cornue
La Cornue is a handcrafted stove manufacturer that takes its inspiration from the French culinary tradition. Materials include enamel, walnut, brass, and even leather. The company's history of innovation dates back to 1908 when it introduced the world's first convection oven.
What truly sets La Cornue apart from other high-end kitchen stoves is the ability to customize in any configuration (induction cooktop, grill, gas burners, wok burner, griddle, French top) or color (there are 400 color options to choose from). Everything is made-to-order.
If you are looking for a unique high-end stove, in styles that can be contemporary or traditional or somewhere in-between, La Cornue is a great choice in 2023. BSC Culinary is proud to offer La Cornue ranges that are as unique as their owners.
Miele
The German company Miele is one of the most popular high-end kitchen appliance manufacturers worldwide. Almost all of their appliances are built in-house in their own factories. Miele prides itself on delivering timeless, elegant designs that comprise the latest convenient technology. The Miele@home system networks all your kitchen appliances and is easily operated through a smartphone app. You can even use Amazon Alexa to manage your Miele appliances with voice commands.
One of the company's latest high-end kitchen appliances is a 48-inch freestanding dual fuel range, featuring six sealed burners on top, with the most powerful reaching 19,000 BTU. The oven contains two convection fans to ensure thoroughly even and efficient cooking. Sixteen cooking customizations let you select from options such as Rotisserie, Gentle Bake, Intense Cook, and Moisture Plus. Energy-saving residual heat utilization switches the oven off early and uses excess remaining heat to complete the cooking process.
Up until the end of 2022, you can take advantage of a special rebate worth up to $1,800 with the purchase of a qualifying Miele appliance package.
Sub-Zero, Wolf and Cove
Sub-Zero, Wolf, and Cove are sister companies, each specializing in a high-end kitchen category – Sub-Zero in refrigeration, Wolf in cooking appliances, and Cove in dishwashing.
The Sub-Zero Designer Series features panels that match surrounding cabinetry, fits flush to the surrounding cabinetry, and doesn't have visible hinges so your refrigerator doesn't look like, well, a refrigerator.
Wolf ranges offer many of the same features used in professional kitchens. Choose from dual fuel, gas and induction models. Wolf also offers built-in ovens, cooktops, and rangetops.
Cove dishwashers are built with customized handles, cabinetry, and interior configurations. These appliances are engineered to ensure spotlessly clean and dry dishes with every load, every time.
With the purchase of a qualifying Sub-Zero and Wolf appliance package, you are eligible for either three additional years of service protection or a $1,000 rebate. Visit our specialized Living Kitchen that goes beyond the normal kitchen display, and invites you to participate in a design experience with Sub-Zero and Wolf experts.
Thermador
Thermador is part of the BSH Home Appliances Company, offering a line of professional ranges, wall ovens, cooktops, dishwashers, refrigerators and freezers, and warming drawers. Select from two high=end appliance collections, Masterpiece® and Professional. Both collections are part of a smart kitchen controlled remotely using a click or voice command via the manufacturer's Home Connect™ app.
Consumer Reports rates Thermador as number one in reliability and owner satisfaction. Sleek designs and industry-leading technology provide premium quality combined with high performance. BSC Culinary offers these Thermador high-end kitchen appliances.
Your High-End Kitchen Appliance Experts
BSC Culinary offers a range of premium high-end appliances custom fit to your kitchen. We're here to help you choose the high-end kitchen appliances that fit your kitchen style and deliver the highest functionality and convenience.
Every kitchen appliance we sell includes installation and delivery. A dedicated Enjoy Life Counselor ensures error-free delivery and installation. You can even track delivery on the day of the appointment.
BSC installation technicians are qualified and insured. Your high-end kitchen appliance is installed professionally and to your complete satisfaction. If you prefer, BSC can provide contactless delivery, a trend that started with the pandemic and that we are happy to continue to offer.
Contact us to further discuss the many features and benefits of high-end kitchen appliances in 2023 and beyond.