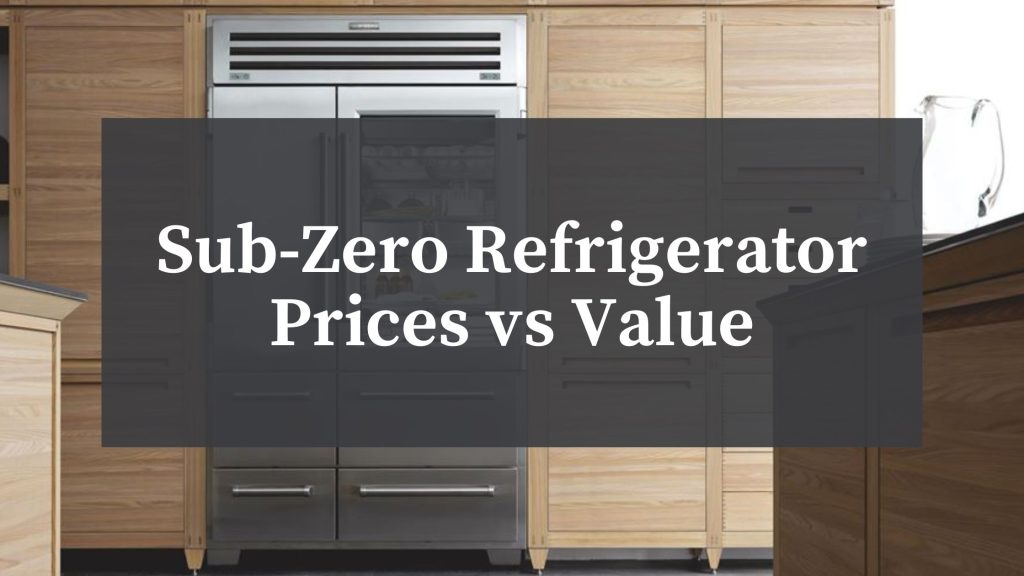 Warm Up to a Cold Choice
Sub-Zero's pioneering of the art and science of food preservation dates back to 1945. A family-owned and -operated company, Sub-Zero refrigerators are high-end appliances customized for both commercial and residential use.
Sub-Zero refrigerators are the Ferraris of full-size refrigerators, offered in a range of widths, innovative configurations, and limitless exterior customization. But are they for you?
A Ferrari costs a lot more than a Chevy, though both can take you from one place to another. So do you really need a $10,000 refrigerator?
Well, you may not need a Sub-Zero refrigerator, but there are certain reasons to want a Sub-Zero refrigerator. What's the value you get from the price of a Sub-Zero refrigerator?
To answer that, let's look at:
Features and Benefits of a Sub-Zero Refrigerator
Sub-Zero refrigerators offer a number of features and benefits. Competitor brands in the same price range also offer many of the same features and benefits, but Sub-Zero is either the originator of the innovation (and thus the feature is likely more reliable) and/or is best-in-class.
Here are some key Sub-Zero features of interest:
Two Compressors
Separate compressors for the refrigerator and freezer serve to contain the air within the individual compartments. The benefit is that it eliminates odors escaping from the refrigerator to the freezer and vice versa. So your ice doesn't taste vaguely like yesterday's leftovers. Also, warmer air from the refrigerator doesn't leak into the freezer and contribute to frost formation.
While no longer today a uniquely Sub-Zero feature, Sub-Zero was the first refrigerator with two compressors. Sub-Zero led where the rest of the industry followed.
Vacuum Seal Door
An active vacuum seal keeps outside warm air from infiltrating the refrigeration compartment, which helps keep food fresher, longer. The one drawback is it makes the door a little harder to open.
Temperature Screen
Much like a digital thermostat, Sub-Zero refrigerators offer a graphic display of temperatures in the refrigerator and freezer compartments. You increase or decrease the temperature using the touchscreen.
Numbers are deceiving, however, and such touchscreen displays can deviate anywhere from 5 to 10 degrees. Sub-Zero is considered best-in-class with the most accurate temperature screen compared to other brands.
Air Purification Scrubber
We're all guilty of leaving food too long in the refrigerator to the point where it spoils. Besides the disgusting look, spoiled food emits ethylene gas, which not only contributes to unwanted smells but also contaminates your other food. Sub-Zero's antimicrobial air scrubber operates on a 20-minute cycle to remove not only ethylene, but also molds, viruses and bacteria. Sub-Zero's air purification is generally regarded as the most efficient compared to other refrigerators' air purification systems.
Magnetic Crispers
Another way to keep out contaminants is to use magnetic crisper drawers. Air can't get into the crispers, so fruits and vegetables remain, well, crisp.
Spill-Proof Nanotechnology Shelving
Don't cry over spilled milk. Sub-Zero nanotechnology shelves are designed to congeal spills and stop them from spreading to other parts of the refrigerator.
What You Won't Find in a Sub-Zero Refrigerator
There are some features currently not available in a Sub-Zero refrigerator that are offered by their competitors. These include:
Wi-Fi
Stainless interiors
Motorized shelves
Most of us don't need a refrigerator to act like our phone. Stainless interiors, however, are more hygienic and keep things colder. Motorized shelving is conveniently handy, but right now Gaggenau is the only manufacturer that offers this.
Sub-Zero Refrigerator Models
There are four types of Sub-Zero refrigerators (not including wine coolers).
Pro Series. Available in 42- and 48-inch sizes; with or without a window; designed for the commercial restaurant market and consumes considerable energy; generally not a good choice for homeowners.
Built-In Classic Series. Features the same compressors as the Pro, but is considerably less expensive; available in 30-, 36-, 42- and 48-inch sizes; offers more customization, including French doors and custom panels; has more cubic footage than the Pro series and is more aimed at the home market.
Designers Series. Available in sizes ranging from 18 to 36 inches, with multiple configuration options that fit just about anywhere, this is an integrated refrigerator that can blend seamlessly with kitchen cabinetry using custom panels.
Undercounter. Drawer refrigeration available in multiple styles; includes wine storage.
Sub-Zero Pricing
Full-size Sub-Zero refrigerators cost anywhere between $6,000 to $18,000 (but keep in mind that today's supply chain disruptions and rising fuel prices make this subject to change). Undercounter refrigerators are in the $3,000 to $4,500 range.
Sub-Zero Warranty
Sub-Zero offers an industry-leading full five-year warranty, with 12 years on the sealed system components, compressors, and evaporators. That said, Sub-Zero's reputation is such that any need to invoke the warranty is unlikely—these refrigerators are considered some of the most reliable on the market.
Sub-Zero Resale Value
People don't typically buy a Sub-Zero with the idea that they can eventually resell it as a used Sub-Zero and regain some of their initial investment, though we suppose it does happen. What does happen for a fact (ask any realtor) is that a kitchen with a Sub-Zero refrigerator is particularly attractive to potential buyers and contributes to the value of the home and the overall asking price.
Sub-Zero Competition
There are some alternatives to Sub-Zero that offer similar features. Companies currently offering professional or classic-type models include GE Monogram and True. While they do have some features that Sub-Zero doesn't offer, such as high fashion colors, overall Sub-Zero has a better warranty and reliability rating, more styles to choose from, and an ethylene air scrubber. Still, something about the other manufacturers might tickle your fancy more than the Sub-Zero.
In the integrated, designer-series category, there are more choices. These include Thermador and Jenn-Air, both widely respected brands. These offer some different features, such as Wi-Fi, more temperature control zones, and full stainless interiors. At the same time, they lack some of Sub-Zero's features, such as the better vacuum seal and the air scrubber; Sub-Zero is also often rated the more reliable appliance.
Another consideration is cost. The difference between a Sub-Zero and its competitors is anywhere from $2,000 to $4,000.
What Value Do You Get for the Sub-Zero Price?
Whether a Sub-Zero is worth the price (somewhere at least in the $10,000 range) obviously depends on your needs, your kitchen, and, most importantly, your budget. Some people pay as much for a high-end turntable as they would for a Sub-Zero; others are happy to stream music over their smartphone. Sure, the top-of-the-line turntable in a premium audio system is going to sound more lifelike, but if you only listen to music as background noise, why bother spending that kind of money?
Even the least expensive refrigerator is going to do a basic job of keeping things cold. It may not fit into your decor, it may not last long, and it might protrude out from the kitchen cabinetry, but in many situations, people can make do with it.
But many people want and can afford something more than "making do." How much more depends on several factors.
If you are building your dream house's kitchen, if you have a large family, if your kitchen is as much a living space as a food preparation area, Sub-Zero is definitely a top consideration.
The Refrigeration Appliance Experts
BSC is your source for the best refrigeration and kitchen appliance brands, including Sub-Zero. Any Sub-Zero refrigerator, as well as any appliance we sell, includes installation and delivery. A high-end benefit with your purchase is a dedicated Enjoy Life Counselor who ensures error-free delivery and installation. You can even track delivery on the day of the appointment.
BSC technicians are qualified and insured. We install your appliance according to all local codes and regulations, and we take the time to ensure your new high-end Sub-Zero refrigerator provides premium performance to your complete satisfaction. Also, if you prefer, BSC can provide contactless delivery.
Contact us today to discuss Sub-Zero refrigerators and select what best fits your needs, then schedule a hassle-free installation.