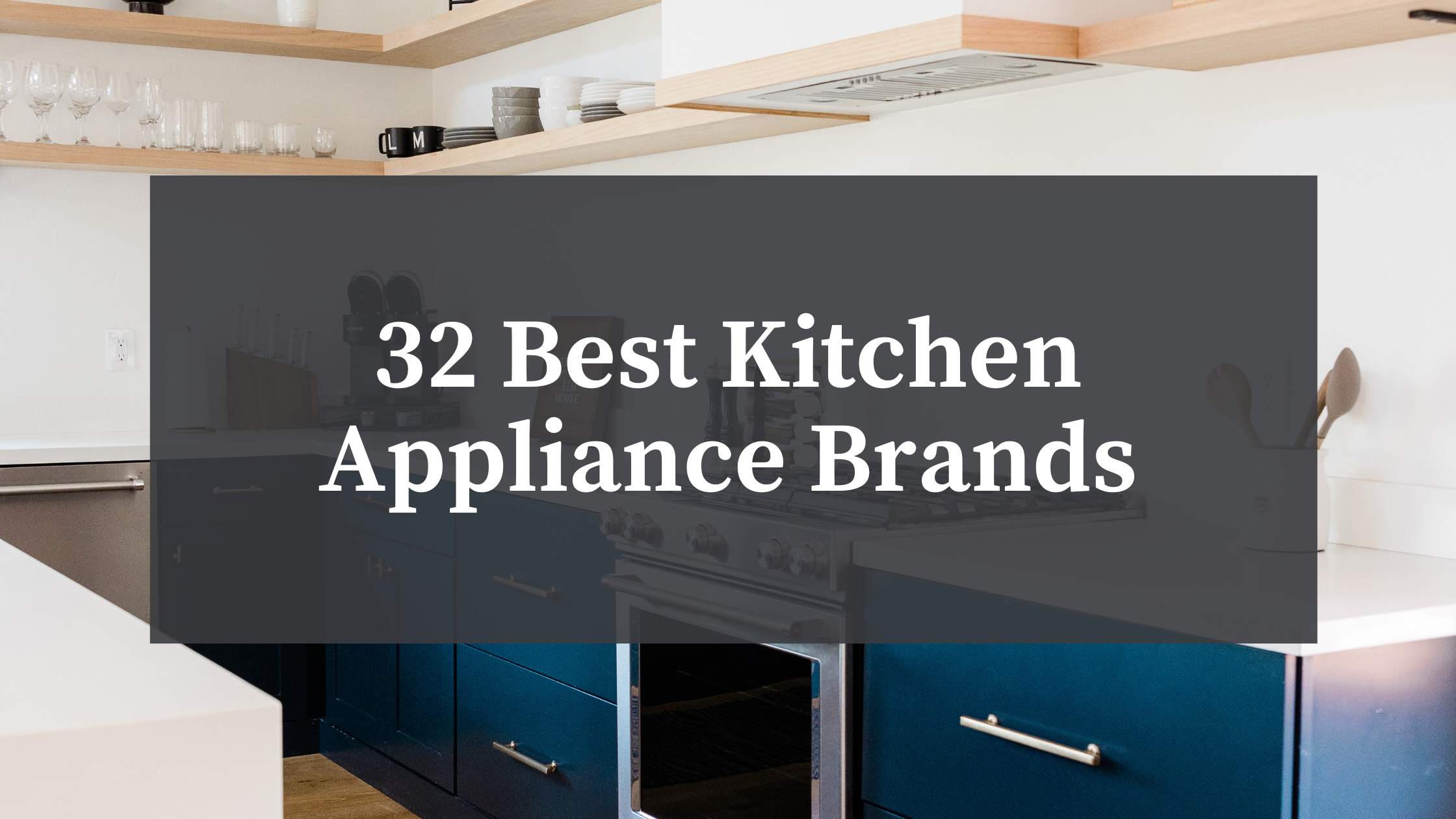 Consider These Appliances for Your Kitchen and Home
Looking for a new appliance? We here at BSC Culinary carry a number of major brands for your consideration, any one of which is a good choice for your kitchen and home. In this post, we provide a list of 32 best appliance brands in 2022:
AGA
Amana
Asaka
Avanti
Beko
Bertazzoni
BlueStar
Bosch
Dacor
Fisher & Paykel
Frigidaire
Fulgor Milano
GE Appliances
ILVE
JennAir
KitchenAid
Lacanche
Liebherr
Marvel
Maytag
Monogram
Perlick
Pitt
Sharp
SMEG
Summit
U-Line
Verona
Vintec
Whirlpool
Woodstone
Zephyr
AGA
AGA is a kitchen range actually invented by a Swedish physicist in 1922. A hundred years later, AGA offers a range (pardon the pun) of looks for any kitchen decor and personal preference.
Instead of the hot air of conventional ranges, AGA uses radiant heat circulating through the ovens and hotplates and creates dedicated cooking zones at pre-set temperatures for ease, convenience and full-flavored results. It preserves more of the food's natural moisture, flavor, texture and goodness. Electric models offer the option to have your AGA on when you need it and off when you don't.
AGA also makes dishwashers and refrigerators. Here are the AGA appliances we carry at BSC Culinary.
Amana
Amana was founded back in 1934 in the town of (surprise!) Amana, Iowa. The company prides itself on affordable, high quality, easy-to-use products with key features most desired by homeowners.
Whatever you need in a home appliance—washer, dryer, refrigerator, kitchen range, microwave or dishwasher—Amana offers the right product for the right price. Shop Amana here.
Asaka
As you might gather from the name, Asaka is Scandinavia-inspired for functional design. The company's guiding motto is "an appliance that makes its way into the heart of your home is something you can love."
Asaka washers, dryers, dishwashers, and other home appliances easily integrate into any room. See the Asaka appliances we carry.
Avanti
Avanti makes refrigerators, freezers and ice makers, wine and beverage centers, cooking appliances, water dispensers, and laundry appliances. It specializes in compact cooking appliances for every kitchen. Shop Avanti here.
Beko
Beko is a European manufacturer that started selling in the United States about four years ago. Beko USA won the 2021 ENERGY STAR® Sustained Excellence Award for the third consecutive year, and is the first home appliance brand to be honored by the EPA every year they have done business in America.
Shop our Beko dishwashers, cooking appliances, refrigerators, freezers, and laundry appliances.
Bertazzoni
In true Italian fashion, Bertazzoni aims to bring people together in the kitchen to enjoy food created using highly engineered and stylish cooking appliances that define elegance and beautiful efficiency.
BSC Culinary carries Bertazzoni cooktops, wall ovens, and ranges.
BlueStar
If you're in the market for a colorful kitchen, be sure to look at BlueStar. This appliance manufacturer offers more than a thousand custom colors and textured finishes and 10 metal trims for its cooking, refrigeration, and dishwasher products. With endless colors and unique trims and configurations, BlueStar products enhance the look and feel of any kitchen.
Shop BlueStar here.
Bosch
Considered America's Most Trusted Brand® four years running by Lifestory Research, Bosch is noted for dishwashers, wall ovens, cooktops and range tops, and refrigerators. If you're looking for Bosch, look here.
Dacor
Dacor offers stunning appliances in a variety of styles that deliver expert innovations, intuitive technology and handcrafted design. Founded in 1948, Dacor has won numerous industry awards for energy efficiency and technological excellence.
Shop Dacor kitchen appliances.
Electrolux
Electrolux technology uses air instead of water to deliver perfectly cooked foods. In addition to wall ovens, cooktops and ranges, a line of refrigerators completes the Electrolux kitchen suite. In addition, Electrolux washers and dryers feature new clean-and-care technology that keeps clothes and fabrics fresh while reducing environmental impact.
Shop Electrolux at BSC Culinary.
Fisher & Paykel
Designing kitchen products since 1934, Fisher & Paykel offers flexible appliances tailored to individual needs. In addition to cooking and cooling appliances, they also make laundry and dishwashing appliances.
Shop Fisher & Paykel at BSC Culinary.
Frigidaire
The name is misleading; Frigidaire doesn't just keep you cool, but heats up your kitchen with appliances that offer practical, time-saving features in a wide range of finishes. Frigidaire also makes washers and dryers.
See for yourself the Frigidaire appliances we carry.
Fulgor Milano
Manufacturing cooking equipment since the late 1940s, Fulgor Milano builds on that heritage to develop cooking equipment that exceeds all expectations of quality, performance, and styling. This year the company introduced all-new induction ranges and range tops, as well as a full line of built-in column refrigeration units.
Shop Fulgor Milano here.
GE
GE Appliances offers a long legacy of industry-leading innovations, from the first residential refrigerator to the first full suite of WiFi-connected appliances. See the laundry, refrigeration, and cooking appliances made by GE, sold and serviced by BSC Culinary as well as its Café and Profile lines.
ILVE
ILVE is an Italian custom manufacturer of cooking appliances featuring solid brass burners and high-quality craftsmanship, designed for passionate home cooks who demand home products as good as those of commercial chefs.
Shop ILVE here.
JennAir
JennAir is a well-recognized brand for cooking, refrigeration, and dishwashing appliances that help define the modern kitchen. Founded by Lou Jenn in 1965, JennAir boasts a number of industry and technological innovations.
You can review BSC Culinary's JennAir products here.
KitchenAid
As the name implies, KitchenAid carries just about everything you need in a kitchen appliance. Whatever you do in the kitchen—cook, bake, brew, blend, cool, or clean—you can do it with KitchenAid.
View KitchenAid products here.
Lacanche
Lacanche ranges are custom built by hand in the best French designs. Contact us for more information on how to design your range.
Liebherr
Liebherr refrigeration and freezing appliances are distinguished by modern design, technical efficiency, and convenient operation. These encompass built-in and stand-alone units, including freezer cabinets and side-by-side equipment, as well as wine cooler cabinets.
Shop here for premium Liebherr products. Also check out the Monolith bottom freezer refrigerator.
Marvel
While no relation to the comic and movie brand, Marvel does share the propensity to do great things, and has been doing them since 1892. Marvel makes refrigerators and beverage coolers.
Maytag
Remember that lonely Maytag repairman in the television commercials? Maytag built its reputation on dependability. A smooth-running home needs a long-running fridge, a dishwasher that'll take some work off your plate, an oven that can do more so you can cook more, and a washer always ready to give dirty clothes a good kick in the pants. That's why Maytag guarantees its appliances always work as hard as you do.
You can find Maytag appliances here.
Monogram
Monogram designs incorporate leading-edge materials used by high-end automotive and aeronautics companies to ensure their appliances bring lasting beauty and quality to your luxury kitchen. Examples include commercial-grade stainless steel for refrigerators, unscratchable sapphire glass featured on cooktop and range knobs, and durable, marine-grade bearings used in dishwasher racks.
Perlick
Family-owned Perlick is a global manufacturer of commercial and residential beverage dispenser and refrigeration equipment. BSC Culinary carries Perlick refrigeration products you can view here.
PITT
PITT cooking appliances are suitable for every type of kitchen–from classic to country style and from contemporary to designer. The black cast iron burners enhance every kitchen. Each PITT cooking installation is made by hand. Contact us for more information.
Sharp
Sharp makes a full complement of kitchen and home appliances, including microwaves, superheated steam and convection ovens, cooktops, refrigerators, and dishwashers. Shop Sharp.
SMEG
Maker of small and large appliances, SMEG makes products that express "Made in Italy" by combining design, performance, and attention to detail. SMEG appliances integrate to create super-efficient work areas that are stylish as well as practical. Shop SMEG kitchen appliances here.
Summit
Summit manufactures refrigerators, freezers and icemakers, cooking appliances, laundry and dishwashers, and beverage coolers. Specializing in small spaces, you can shop Summit products here.
U-Line
An American manufacturer, U-Line specializes in refrigerators, freezers, beverage coolers, and ice machines. Shop U-Line here.
Verona
Verona ranges, ovens and cooktops are crafted in Italy, suitable for any size American kitchen. Verona burners use less fuel and energy than standard burners and provide safe and efficient cooking. Verona products are available to view here.
Vintec
If you are a wine lover, you'll love Vintec wine cabinets. Shop here.
Whirlpool
Whirlpool innovations make cooking and cleaning easy and efficient. Whirlpool Corporation started in 1911 as a small company in Benton Harbor, Michigan. For more than 100 years, the company introduced major innovations, including the very first automatic washing machine in 1948. Shop Whirlpool here.
Woodstone
Make your own pizzas? Interested in stone hearth pizzas for home use? Then you are interested in Woodstone. Contact us for more information.
Zephyr
Zephyr celebrates 25 years of making smartly designed wine and beverage coolers and range hoods. Shop their appliances here.
The Appliance Experts
BSC is your source for the best kitchen and home appliance brands. Buying any appliance from BSC includes installation and delivery. A high-end benefit with your purchase is a dedicated Enjoy Life Counselor who ensures error-free delivery and installation. You can even track delivery on the day of the appointment.
BSC technicians are qualified and insured. We install your appliance according to all local codes and regulations and take the time to ensure your new high-end appliance provides premium performance to your complete satisfaction. If you prefer, BSC can provide contactless delivery.
Contact us today to select the best appliance that best fits your needs, and schedule a hassle-free installation. And keep an eye for related appliance posts and resources.