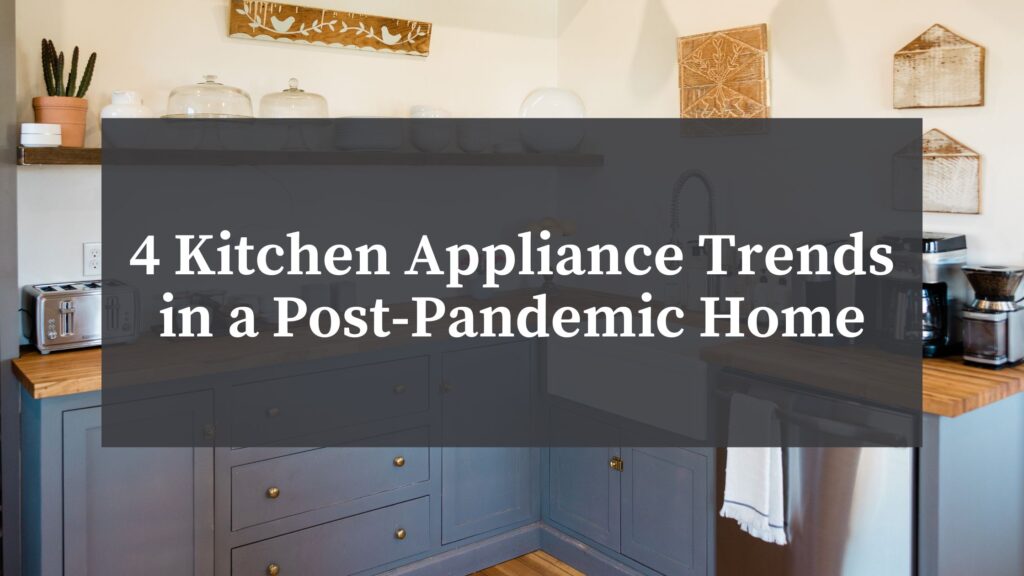 Why We Love Our Kitchens Now More Than Ever
People spent more time during the pandemic in their kitchens, cooking and entertaining at home. While kitchens have always been the "heart of the home," their value extends beyond mere utility. Given how many of us have literally lived in our kitchen spaces, and discovered how much we enjoyed it, it's no wonder the look of the kitchen is as important as the functionality.
Anyone who has seen an HGTV makeover episode knows that open-space kitchen layouts are valued to foster interaction with family members and guests while preparing food, as well as providing a way to keep an eye on what small children are up to. The pandemic furthered this design trend towards a "living room kitchen"–a place where people congregate, relax, and, particularly important post-pandemic, directly connect with others.
In addition to influencing kitchen cabinetry, seating arrangements, and islands, kitchen appliances have also been affected by post-pandemic trends. If you're considering new kitchen appliances, and particularly if you are considering appliances for a new home or kitchen renovation, here are four post-pandemic trends to keep in mind:
Out of Sight, Out of Mind
These days, nobody wants to see how the sausage is made. Literally. Post-pandemic kitchens are as much entertaining and hang-out spaces as they are where food gets made. Of course, the kitchen is where the food is made, but if you aren't actually engaged in that activity, out of sight is out of mind. Which is why the appliance garage is now popular as a way to hide away toasters and coffee makers and other small appliances, to be used when needed and tucked away when not.
Of course, bigger appliances aren't so easily hidden; there's no such thing as a "stove garage." But a trend in appliance design is to make surfaces as unobtrusive as possible. Induction cooktops, for example, provide a sleek surface in contrast to bulky burners.
Another trend is away from stainless steel finishes that visually just scream, "KITCHEN APPLIANCE!" The Sub-Zero Designer Series, for example, features panels that match surrounding cabinetry, fits flush to the surrounding cabinetry, and doesn't have visible hinges so your refrigerator doesn't look like, well, a refrigerator.
Smart Appliances
A "smart" appliance connects to your home wi-fi and is operated by an app on your smartphone or tablet, or, increasingly, by using voice commands through Amazon Alexa or Google Assistant. But it's more than just telling the coffee machine to turn on in the morning. It's that the coffee machine "knows" your profile calls for brewing a stronger coffee than that of your spouse.
An increasing trend with high-end refrigerators is a touch screen, sort of like an iPad on the door. This lets you look up recipes, add items to grocery lists, and post reminders to family members. You could also watch a cooking show on YouTube, read a baking blog, or play music. Artificial intelligence (AI) technology monitors refrigerator usage and performance and alerts you if a service issue is ever detected.
Admittedly, you could just use your iPad for that. But the smart refrigerator can also tell you if something inside is starting to spoil or if ice is running low. Many smart refrigerators also have an inside camera. So if you're at the supermarket and can't remember if you have enough milk, you can open an app on your smartphone to view the refrigerator contents and see how many milk cartons there are. You can even do this at home and not waste energy opening and closing the refrigerator door.
LG's new InstaView side-by-side refrigerators feature a glass viewing window so you can quickly see the fridge's contents without opening the door. The water dispenser employs UV (ultra-violet) sanitization, something that became top-of-mind during the pandemic.
Similarly, some ovens now allow you to see what is inside without needing to actually open the door. Just knock twice on a glass door to illuminate the interior to get a clear view of what's cooking.
As you might expect, extra functionality comes with extra cost. But it's more than just added convenience. During the pandemic, people got more reliant on their computers and smart devices to stay connected. Managing your kitchen using the same kind of connections is the next step in greater comfort and finer control of daily living.
Sustainability
In 1990, the average refrigerator during a year consumed around 1280 kilowatt-hours. In 2020, that number dropped to 500 kilowatt-hours. Lower energy consumption resulted from improvements in materials and refrigerant gasses, driven by consumer desire for higher energy efficiency, which leads to lower utility bills.
Even before the pandemic, consumers were increasingly interested in sustainable products – sustainable not only in terms of better energy consumption, but also products made of recycled materials. Just as important, if not the most important, is for high-quality, energy efficient products to last a long time. Long appliance lifespans mean less waste, which means less impact on the environment. Key to an extended lifespan is not just quality build with sturdy materials, but a timeless look that doesn't wear over time. You can't go wrong, for example, with classic stainless steel.   
Pro-grade
People cooked more at home during the pandemic. Many of those people decided they really liked it. Consequently, we're seeing increased interest in professional commercial-grade kitchen appliances. If you're cooking more at home, you want a commercial-grade refrigerator that not only holds more, but can accommodate varying temperatures for different kinds of foodstuff.
There's also a trend towards dual-fuel ovens that combine an electric oven for baking and a gas-fueled stove top. Other ovens provide multiple cooking functions for convection baking, sous vide, and air frying. The advantage here is you eliminate kitchen clutter, eliminating the need for a separate air fryer or griddle or a device to use for sous vide.
Yet another hot trend, if you'll excuse the expression, is induction cooktops and ranges. These use electricity to heat pots and pans through magnetic induction. The benefit is the pots and pans heat much more quickly and much more evenly than gas or electric cooktops.
Consult the Kitchen Appliance Experts
BSC Culinary offers a range of premium high-end appliances custom fit to your kitchen. Any suggestions you need or questions you may have can be answered by our expert Sales Strategists. Sub-Zero, Wolf, Asko, Gaggenau, Thermador, Kalamazoo, LaCornue, Cove, and Miele are just some of the premium brands we carry. BSC Culinary is here to help you choose the kitchen appliances that best fit the look of your kitchen and your budget with the highest functionality.
Every kitchen appliance we sell includes installation and delivery. Your dedicated Enjoy Life Counselor ensures error-free delivery and installation. You can even track delivery on the day of the appointment. 
BSC installation technicians are qualified and insured. Your kitchen appliance is installed professionally and to your complete satisfaction. If you prefer, BSC can provide contactless delivery, a trend that started with the pandemic and we are happy to continue to offer.
Contact us to further discuss the many features and benefits of kitchen appliance trends for your post-pandemic home.