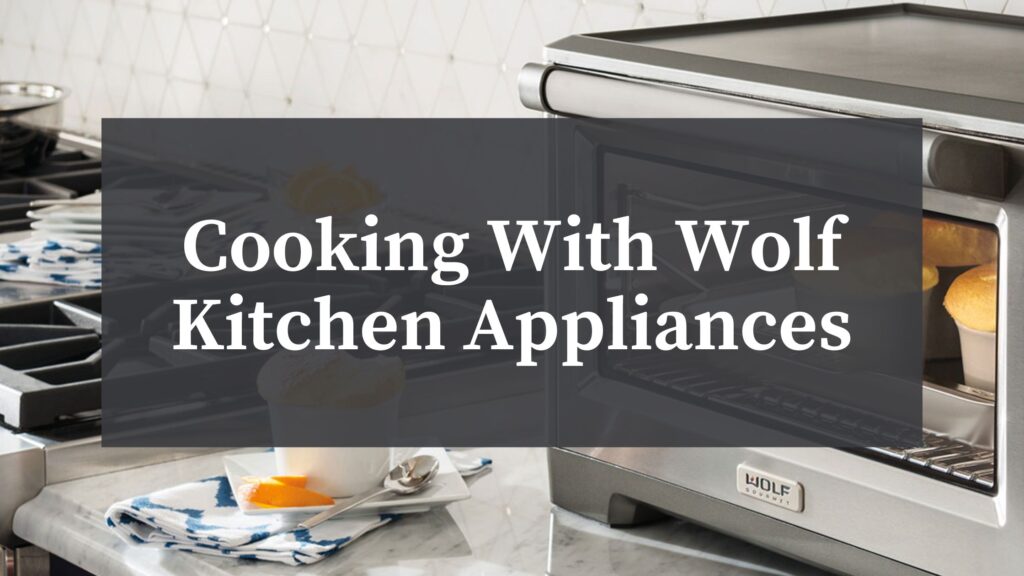 Why Wolf Kitchen Appliances?
Wolf kitchen appliances represent best-in-class performance and deliver good looks and good value. If you love to cook, you are going to love cooking with Wolf kitchen appliances.
While Wolf kitchen appliances carry a higher price tag than some other kitchen appliances, you are investing in high quality that lasts for decades. Wolf kitchen appliances are tested to perform for over 20 years of daily use and are backed by the strongest warranties in the industry.
In the words of the Wolf kitchen appliance manufacturer:
"Unlike many manufacturers, we are specialists. We focus solely on making the best kitchen appliances possible. We have no distractions, and we make no compromises. Our expertise has been honed over generations…Wolf has been building cooking equipment to satisfy the most demanding professional chefs and domestic cooks for more than seven decades. That experience shows. We take pride in the fact that our products are regularly chosen for the most prestigious international architectural projects, such as the Burj in Dubai, the Hesperia Tower in Barcelona, the Pan Peninsula in London or the Bloomberg Tower in New York. Whatever vision you have for the kitchen in your home, our products will fit in beautifully. We have only one driving passion: to build outstanding kitchen equipment that looks great and delivers the professional performance that instills real cooking confidence."
Let's take a look at:
Wolf Kitchen Ranges
Wolf ranges allow home chefs to experience the power and finesse of professional kitchens. There are three types of Wolf kitchen appliance ranges:
Dual Fuel. This Wolf kitchen appliance features patented dual-stacked, sealed (to prevent spills and splatters from making a mess) gas burners combined with a Dual VertiFlow™ convection electric oven. Available in 30-inch and 36-inch widths; up to two ovens with 48-inch and 60-inch widths. Options include an infrared griddle, infrared charbroiler, and a French top.
Gas. Dual-stacked, sealed gas burners with a gas oven provide precise temperatures. Available in 30-inch and 36-inch widths; up to two ovens with 48-inch and 60-inch widths. Options include an infrared griddle, infrared charbroiler, and a French top.
Induction. An increasingly popular selection in both home and professional kitchens, this Wolf range features an induction cooktop combined with a Dual VertiFlow™ convection electric oven. The induction cooktop employs a magnetic coil beneath a ceramic glass surface to instantly generate heat to an induction compatible pan. Consequently, the induction cooktop offers quick cooking speeds with precise control and high energy efficiency. Available in 30-inch and 36-inch widths.
Wolf Kitchen Cooktops
As the name itself implies, a cooktop is a standalone kitchen appliance that sits in a measured space cut into the kitchen countertop, with a separate oven that is either located beneath it or elsewhere in the kitchen on a wall. Wolf cooktops are available in gas, electric and induction models.
Wolf gas cooktops feature dual-stacked, sealed gas burners and are available in 15-inch, 24-inch, 30-inch, and 36-inch widths. Electric cooktops offer such features as a one-touch melt setting and are available in 15-inch, 30-inch, and 36-inch widths. Induction cooktops supply heat directly to cookware using magnets and are available in 15-inch, 24-inch, 30-inch, and 36-inch widths.
An additional category is the Wolf gas rangetop, installed to sit prominently above the kitchen counter and extend from the front of the counter to the backsplash, featuring dual-stacked, sealed burners and optional charbroiler, griddle, or wok burner. Front-facing knobs are available in red, black, or brushed stainless steel.
Wolf Kitchen Range Hoods
By-products of cooking are smoke, grease, and odors. A proper range hood captures these pollutants and employs a blower to send them to dissipate outside your kitchen and your home. Wall and island hoods draw the eye and serve as a key design feature, and they include LED lighting to elegantly illuminate kitchen work areas. They are available in sizes ranging from 24 to 66 inches.
Don't particularly like the look of range hoods? No problem. Wolf offers ceiling mounted hoods in white glass or stainless steel in 36-inch and 48-inch sizes. Another even more out-of-sight option is downdraft ventilation, available in 30-inch, 36-inch, and 45-inch sizes.
Wolf Built-In Kitchen Wall Ovens
Wolf wall ovens provide easy access to what's cooking, either in place of a below-range oven or, for those with large families and/or those who hold frequent dinner parties, as an adjunct cooking appliance. Wolf offers a variety of built-in convection ovens, convection steam ovens, and convection speed ovens in transitional, contemporary, and professional styles,available in 24-inch and 30-inch widths.
Wolf Built-In Kitchen Microwaves
A Wolf kitchen appliance must is a microwave oven, in either built-in or countertop models, or perhaps even both. Choose from drop-down or drawer microwaves in 24-inch and 30-inch widths, as well as standard swing 24-inch width models. Many Wolf microwaves also include convection ovens.
Wolf Kitchen Warming Drawers
Wolf warming drawers are an increasingly popular Wolf kitchen appliance engineered to preserve food temperature and quality without compromising flavor. Employing precise air and temperature control, warming drawers heat plates and cups to ensure everyone gets a warm meal, even if they arrive long past actual cooking time. Perfect for large families, or for family members on different schedules, as well as for dinner parties.
Wolf Kitchen Appliance Brands
Of course, regardless of what you cook and how you cook it, every working kitchen requires proper refrigeration and clean-up tools. A Wolf kitchen appliance for these needs are found in sister brands Sub-Zero and Cove. Sub-Zero refrigerators provide customization to complement any Wolf kitchen appliance and your individual personal style. They complement, anchor, or completely disappear into your decor, and are available in both full-size and undercounter models. Cove dishwashers provide near-silent operation to spotlessly clean and dry dishes, while fitting seamlessly into your kitchen's configuration. They are available with custom cabinetry and handles.
Consult the Wolf Kitchen Appliance Experts
BSC can help you select the Wolf kitchen appliances that best fits your home decor, cooking requirements and habits, and budget. We work with you to choose the Wolf kitchen appliances that combine high functionality with style at the right price.
Every Wolf kitchen appliance BSC sells includes installation and delivery. A dedicated Enjoy Life Counselor ensures error-free delivery and installation. You can even track delivery on the day of the appointment. If you prefer, BSC can provide contactless delivery.
Contact us to discuss any Wolf kitchen appliance.