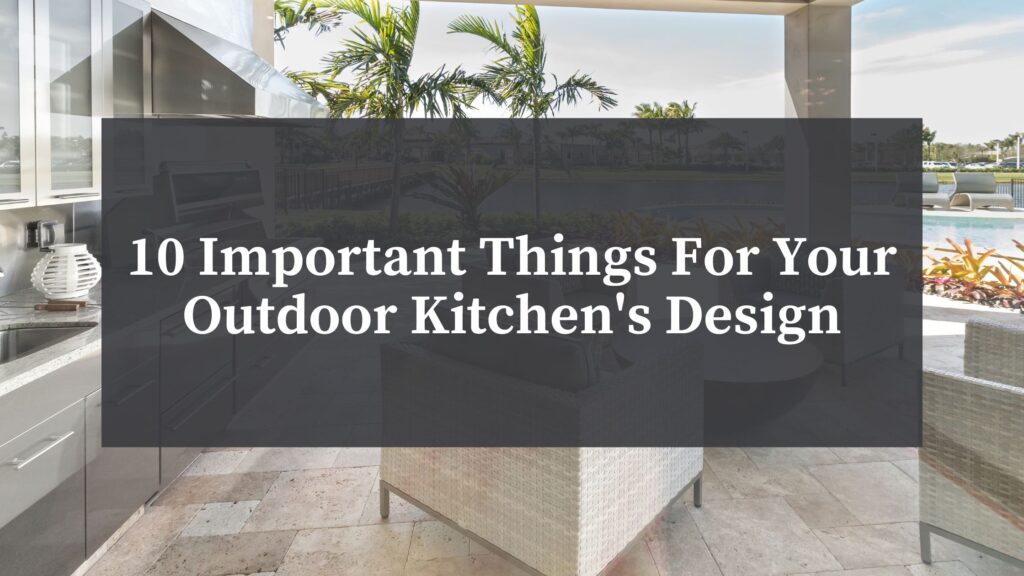 Why an Outdoor Kitchen Isn't Like Your Father's Backyard Grilling
It used to be that outdoor cooking meant flipping a few burgers over a coal-fired grill. Today, an outdoor kitchen is much more than just a cooking space outside–an outdoor kitchen is a place to entertain; it's an extension of the home that reflects your personal style and that can work beyond the limits of warm summer months.
Which means an outdoor kitchen is more than just wheeling out the barbecue grill. Much more. There are a lot of things to consider for an outdoor kitchen's design, just as there are for the kitchen inside your home. Let's take a look at 10 important things to consider for your outdoor kitchen's design:
1. Budget
How much do you want to spend to achieve your dream outdoor kitchen? And if you don't quite have enough to spend to get your dream outdoor kitchen, what are your priorities for an outdoor kitchen that you can build that's within your budget?
Some key budget considerations include:
Utility hookups. It's easy to forget that an outdoor kitchen, just like your indoor kitchen, requires electricity, gas, and running water. That not only means paying to construct hookups to these utilities, but also paying for permits to allow the hookups. Your plans are also likely subject to local inspection. And failure to comply with local regulations can not only delay your project, but cost you more to bring into compliance.
Tech connections. Many modern appliances, even those intended for outdoor use, are wi-fi enabled. For that matter, you probably want wi-fi access in your outdoor eating area just as you do anywhere else outdoors. Maybe your wi-fi extends to your outdoor kitchen area; maybe all you need to do is purchase a wi-fi extender; or maybe you need an extra router. Whatever the case, make sure you allow for tech connections in your budget.
Material quality. Obviously, an outdoor kitchen needs weather-resistant materials, but this is one area where you don't want to skimp. Higher quality materials do cost more, but they also last longer as well as look better over time.
2. Your Climate
Here in California, we mostly enjoy sunny skies and warm weather for most of the year. Take into account your local weather conditions when planning your outdoor kitchen. For example, if you're near the ocean, salt water and sea air is corrosive to certain materials. Here you'd want to aim for cabinetry using marine-grade stainless steel that is highly resistant to corrosion. Powder coat finishes also add a layer of protection to cabinetry, and are worthy of consideration even if you aren't in a coastal area.
You do want to make use of your outdoor kitchen during cooler weather, so plan for outdoor heaters. To ensure you can use your outdoor kitchen even when it's raining, consider adding a roof or a transitional exterior room, which as it happens is called a California room, to provide shelter during periods of less desirable weather.
3. Layout
The layout of countertops, major appliances, and storage areas comprise the classic working triangle you make when moving from the refrigerator to the sink to the cooking area. The idea is to make the most efficient use not only of the space, but in how you prepare food and how you access food staples and cooking utensils. Also keep in mind that the outdoor kitchen needs to complement not only your home, but also other areas in your yard, such as a patio or deck. Of course, how much space you have for an outdoor kitchen is the primary determining factor for how large you make it, or if you have room for extra amenities such as a bar area.
4. Function
Outdoor kitchen design is the same as any kitchen design, in that you must consider four distinct functional zones: cold (refrigeration, ice maker), hot (cooking), wet (sinks), and dry (counter, meal prep space). One key to figuring out how each of these functions plays out in your outdoor kitchen's design is determining whether you have efficient and easy access to gas, electric, and water hookups.
5. What's Your Style?
You may want the outdoor kitchen to reflect the same style as your house. But you can also opt to mix and match; there's no reason why you can't have a modern outdoor kitchen even if your indoor kitchen is country. The main difference between designing your indoor kitchen and your outdoor kitchen is that with the latter, you are planning for more durability and strength of materials that hold up best outside. Even if you have a good sense of your own style, you might want to consider consulting a designer. BSC Culinary can help you not only consider design options, but work with you and your contractor to provide specifications you need to build a perfectly styled and functional outdoor kitchen.
6. Appliances
The choice of appliances is based on the type of outside cooking you do, and just how far you want to go to recreate a full-service outdoor kitchen that stays within your budget. There are a variety of options beyond a stovetop and refrigerator, including pizza ovens, smokers, and high-end grills that burn both wood and charcoal at the same time. BSC Culinary carries brand leaders in outdoor kitchen and entertainment spaces, including Urban Bonfire and Kalamazoo.
7. Add-Ons
An outdoor kitchen is also an outdoor entertainment space. Consider add-ons such as a bar area, with a separate sink, kegerator, and wine cooler. You might also want to establish a pizza oven or a grill or smoker as a separate zone with its own "personality."
8. Seating
The purpose of an outdoor kitchen isn't just to prepare food, but to serve it and entertain family and friends. The dining area is often situated away from the cooking area. It can be a formal table to accommodate a number of people, or an informal counter to collect plates and eat at, with separate seating areas for socializing. Or it could be both. If you have the space and the budget, you can create as many seating areas as space allows.
9. Lighting
You can't cook in the dark. Well, you could, but it's not recommended. You won't be cooking and entertaining in daylight hours only. Work areas require different task lighting than mood lighting for eating and entertaining areas. Also, if you have walkways between areas, these need proper illumination so people can see where they are going. If you have a roof, consider using fans that can also provide lighting. Some appliances even come with LED lights that activate whenever lids or doors open.
10. Storage
The last thing you want to do is ferry utensils and dishware from inside the house to your outdoor kitchen. So just like your kitchen indoors, proper storage is essential. Storage outdoors is a particular challenge, as you don't want critters as well as outside dust and pollen getting into all your stuff. So plan for cabinetry that can accommodate plastic bins to hold your utensils, glasses, and plates. And don't forget you'll need cabinet storage for cleaning supplies. 
Consult the Outdoor Kitchen Appliance Experts
Designing your outdoor kitchen is a fun and creative endeavor. It is also potentially challenging. It's best to work with a designer or architect to ensure your best inclinations for what you want in an outdoor kitchen translate into the best practical – as well as stylish – choices. Throughout the entire design and process, keep an eye on your budget. Things change, unexpected hiccups occur, prices go up, and sometimes contractors come back with revised estimates. It's always a good practice to plan a contingency budget.
BSC Culinary wants to help you create the outdoor kitchen and entertaining space that is perfect for you and your family, and help you turn your vision into a reality. We offer free consultations to get the design process started, and our talented team and premier partners will ensure that your outdoor kitchen is perfectly tailored to your space. 
BSC Culinary offers a range of premium high-end appliances and cabinetry designed for outdoors, including Urban Bonfire, Kalamazoo, and DEKTON. We're here to help you choose the appliances and cabinetry that best work outdoors and best fit your style to achieve an outdoor kitchen within your budget with the highest functionality.
Every appliance we sell includes installation and delivery. A dedicated Enjoy Life Counselor ensures error-free delivery and installation. You can even track delivery on the day of the appointment. If you prefer, BSC can provide contactless delivery.
Contact us to discuss the important considerations for your outdoor kitchen design.