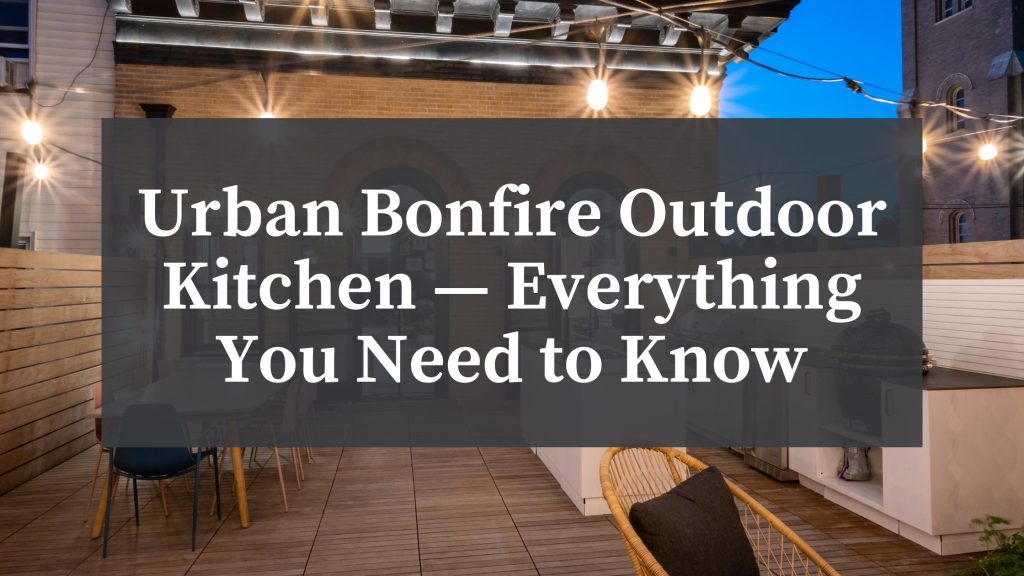 What's Cooking Outside?
Who really needs an outdoor kitchen? Apparently a lot of people. In fact, according to Forbes magazine, outdoor kitchens started taking off in popularity during the pandemic as a way for friends and family to safely gather socially outdoors.
If your image of an outdoor kitchen is a dad-like figure from the 1950s in a white apron, wielding a long fork spearing a hot dog, standing in front of a smoking barbecue grill, think again.
People are eating out less, staying at home more, and choosing to entertain family and friends at home. And when people entertain at home, where do they congregate?
The kitchen.
So today's kitchen isn't just a utilitarian food preparation space. It's a space to interact with people and entertain while you prepare food. In effect, the modern home kitchen is a space where cooks use quality equipment, strategically placed to facilitate efficiency but also to provide a staged environment in which to perform the culinary arts and entertain guests.
The same principles apply when the kitchen space moves outdoors. Your outdoor kitchen can be both just as beautiful and as functional as your indoor kitchen.
Which brings us to the Urban Bonfire Outdoor Kitchen. In this post, we take a closer look at the design and manufacturing of this high-performance outdoor kitchen.
What is Urban Bonfire?
Urban Bonfire is a Montreal-based kitchen design and manufacturing company co-founded by Ryan Bloom and Stefan Marchant. With combined backgrounds in entrepreneurship, real estate development, aerospace engineering, and furniture design, the founders of the original Urban Bonfire started it up as a full-service outdoor kitchen supply store. Think Williams-Sonoma, but for outdoor kitchens.
However, the company soon became noted for their outdoor kitchen designs. High-profile assignments, such as designing the entire outdoor cooking pavilion for Charbroil's office in Georgia, shifted its primary focus to the outdoor kitchen space.
As Bloom notes, "Before, design stopped at the patio door. Now it's an extension of the indoors, an aesthetic-cohesion decision as much as it is a functional one. That's been a cataclysmic shift."
Today, an in-house team of kitchen and industrial designers work closely with interior and architectural designers to create the most value in outdoor kitchen design. Experienced engineers, machine operators, and artisans turn their concepts into innovative products and services. A key Urban Bonfire innovation is to manufacture modular cabinet components configured to the dimensions of just about any layout in any outdoor space.
Key Features of the Urban Bonfire Outdoor Kitchen Framework
The Urban Bonfire Outdoor Kitchen is just like your indoor kitchen in terms of functionality and the value it adds to the cooking and entertaining experience. It is modern and modular to fit any outdoor space and to maximize efficiency. The Urban Bonfire company does not make outdoor cooktops, barbecues, or other appliances, but is compatible with those of most major manufacturers. The advantage here is that you aren't tied to a particular appliance manufacturer and can pick and choose whatever suits your fancy, as well as your budget.
The framework of Urban Bonfire cabinetry modules encompasses the key features of:
Finishes
Materials and Hardware
Modules
Finishes
Urban Bonfire's NACRAĒ™ is the standard finish on all cabinetry and accessories, with an antimicrobial formulation specially engineered for outdoor use. This FDA-approved and environmentally sustainable finish not only provides maximum safety and freshness for food preparation, it is also highly durable even in harsh climates and resists scratching, fading, and staining. Finishes are available in a collection of specialty colors.
Materials and Hardware
Cabinets, planters, accessories and backsplash systems are made from non-combustible, thick marine-gauge aluminum that is twice as thick as most similar stainless steel cabinetry, but lighter in weight and most suitable for long-term use in outside environments.
Doors, glides, hinges, pulls, and leveling legs are made out of outdoor-grade 304 stainless steel. They feature full interior and exterior electrostatic powder coating, with matching powder-coated, integrated, self-leveling toe kicks.
Powder-coated upgrade finishes are an optimal choice for saltwater climates. Solid bronze handles are also available as an upgrade.
In addition to compatibility with all major grill brands and outdoor cooking accessories, cabinetry is compatible with Dekton, Sensa, and most outdoor countertop surfaces.
Urban Bonfire cabinets carry a 10-year limited warranty. Given the quality of materials specially designed for outdoor use to endure even the harshest weather conditions, combined with the 10-year warranty, an Urban Bonfire outdoor kitchen could very well outlast your indoor kitchen.
Modular
There are currently 23 modular components from which to select in configuring your individual outdoor kitchen. They include side and power burner cabinets, utility, grill, sink ,and refuse base cabinets, as well as warming drawer inserts.
Urban Bonfire Classics
The Classic collection is a series of Urban Bonfire's most popular kitchen configurations, colors, and accessories. Choose from 50 configurations that include options for grills, refrigeration, islands, sinks, and storage.
Urban Bonfire Custom Design
You can also work directly with Urban Bonfire designers to create your own custom outdoor solution that best reflects your lifestyle, tailored precisely to fit your space. We are happy to work with you to help you achieve your dream outdoor kitchen.
Build Your Personalized Outdoor Kitchen
Urban Bonfire outdoor kitchen solutions are more than just assembled cabinetry; they're an outdoor space activation system designed to create outdoor rooms. We believe your outdoor space deserves as much respect as your indoor space. It is, after all, where you and your family live.
BSC can help you build outdoor rooms for cooking and entertaining that are both functional and aesthetically pleasing.
Your dedicated Enjoy Life Counselor ensures error-free delivery and installation. You can even track delivery on the day of the appointment. 
BSC technicians are qualified and insured. We install your outdoor kitchen according to all local codes and regulations, and we take the time to ensure your new outdoor kitchen meets all of your expectations to your complete satisfaction.
Contact us today to discuss Urban Bonfire cabinetry as well as associated appliances and countertops. Together, we can build the outdoor kitchen of your dreams.