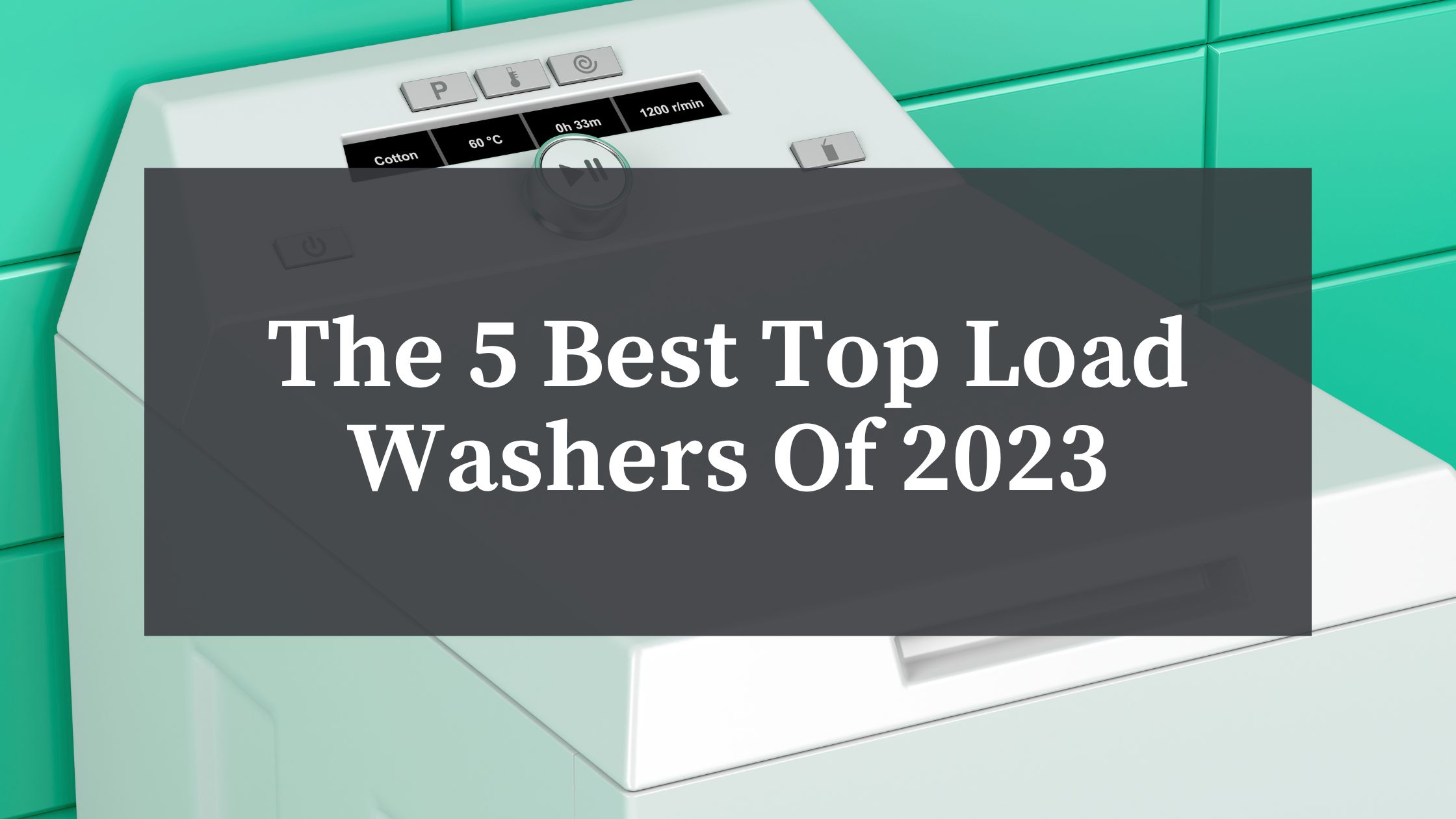 What is a Top Load Washer?
And what makes a top load washer one of the best top load washers?
That's something we here at BSC get asked about a lot. First, let's explain the difference between a top load washer and a front load washer. As you might expect from the names, with a top load washer, you load clothes at the top of the appliance, and with a front load washer, you load clothes in the front. Why prefer one over the other?
One major factor concerns convenience. Some people prefer not to have to bend down to load clothes into a front load washer. But there are additional advantages of a top load washer over a front load washer. These include:
Top load washers are generally less expensive than front load washers.
Top load washers have faster wash cycles.
Top load washers generally require less cleaning and maintenance.
One drawback to a top load washer is the common use of an agitator, a device in the central post of the washer that twists back and forth; this agitating action is how the washer breaks apart dirt and stains. The drawback is that clothes can get wrapped around the agitator and sometimes take a bit of effort to untangle. Agitators are also rougher on clothing, and may over time lead to fraying sooner than usual with some fabrics. However, many top load washers now use impellers that are commonly found in front load washers. An impeller uses a small amount of water to optimize friction used to clean clothes. The result is a gentler but still efficient cleaning action.
As with any washer, top load or front load, a key feature to consider is drum size, usually measured in terms of cubic feet. Obviously, the more cubic feet a drum has, the larger the capacity it can hold. Most top load washers offer larger capacities than front load washers. So if you have a large family and frequent wash days, you might want to consider a top load washer with a higher capacity.
For whatever reason, if you are considering a top load washer, here are our picks for the 5 best top load washers of 2023:
1. Whirlpool® 4.7 Cubic Foot Top Load Washer
This Whirlpool top load washer features a removable agitator. This gives bulky items more space to move, without getting entangled around the agitator or otherwise getting "beaten up." Another nice feature is the ability to pre-treat stains right inside the top load washer, with the built-in faucet to remove loose soil. There's also a Deep Water Wash option which lets you add more water to the load, to better clean heavily soiled clothes. The estimated yearly energy cost, based on using an electric water heater, is $34.
2. LG 5.5 Cubic Foot Top Load Washer
This is a top load washer from LG (LG actually stands for its former corporate name, "Lucky Goldstar," contrary to what you may have heard; some assume LG stands for Little Guy" or the company's motto, "Life's Good"). This washer offers a number of interesting features, including:
TurboWash3D™ which promises to provide a powerful clean in as little as 29 minutes.
As it is the largest capacity top washer in its class, you can fit a comforter and a full set of king-size bedding in a single load.
Water Plus is a deep fill option to add extra water to any cycle with the touch of a button.
ColdWash™ technology provides warm water cleaning performance at the improved energy savings of a cold wash.
Stainless steel tub that avoids chips and snags common to porcelain or plastic tubs.
SmartPairing™ that automatically "tells" the dryer what cycle to use.
ThinQ app that provides alerts about washer usage and maintenance, as well as early diagnosis of potential issues.
3. GE® 4.2 Cubic Foot Top Load Washer
This king-size capacity top load washer features a stainless steel tub that can accommodate just about any size wash. It comes equipped with five water level selections so you can use as much or as little water as you prefer. There is also an Extra Rinse option. Enjoy peace of mind with a 5-year parts and labor warranty combined with a 10-year motor warranty and a lifetime warranty that covers rust and corrosion on the wash basket. A Deep Clean cycle provides 67 percent more cleaning power than the most commonly used Normal or Colors cycles.
4. Maytag® 4.7 Cubic Foot Top Load Washer
This heavy-duty top load washing machine features the Power™ agitator to deliver powerful cleaning that brightens your day as well as your clothes. An Extra Power button boosts stain fighting capabilities with a dual-temperature wash for any wash cycle, even for the Quick Wash cycle. The Deep Fill option delivers more water when you want it, while the built-in water faucet delivers a quick rinse or a long soak. Smart wi-fi enabled washer features help you stay in control and efficiently manage laundry from literally anywhere using the Maytag smart app. And it comes with Maytag's 5-year limited parts and labor warranty followed by an additional 5-year limited parts warranty on the drive motor and stainless steel wash basket.
5. Samsung 5.2 Cubic Foot Brushed Black Top Load Washer
Looking for an appliance that isn't the traditional beige or white? Check out this brushed black top washer from Samsung. In addition to this top load washer's good looks, it can wash a full load of laundry in just 28 minutes, without sacrificing cleaning performance. Its large capacity means fewer loads, which means less time in the laundry room. A built-in water faucet lets you easily pre-treat soiled or heavily stained clothes with the press of a button. You can also scrub clothes right inside the washer, eliminating the need for a separate laundry sink. The EZ Access tub is shallower, even with its high capacity, so you can always easily reach the bottom of the washer tub. Innovative Vibration Reduction Technology reduces noise and vibration for quiet washing. Wi-fi connection to the Samsung SmartThings app provides end-of-cycle alerts, as well as the ability to schedule cycle times and remotely stop or start washes, among other features. There's also audio assistance that plays a different sound for each washer option, for anyone in your family who is visually impaired.
Your Top Load Washer Experts
BSC offers a range of top load washers in addition to the five we list here. We can help you choose the top load washer that best fits the needs of your family and delivers the highest functionality within your budget.
Every top load washer we sell includes installation and delivery. A dedicated Enjoy Life Counselor ensures error-free delivery and installation. You can even track delivery on the day of the appointment.
BSC installation technicians are qualified and insured. Your top load washer is installed professionally and to your complete satisfaction. If you prefer, BSC can provide contactless delivery, a trend that started with the pandemic and that we are happy to continue to offer.
Contact us to further discuss the many features and benefits of top load washers in 2023.