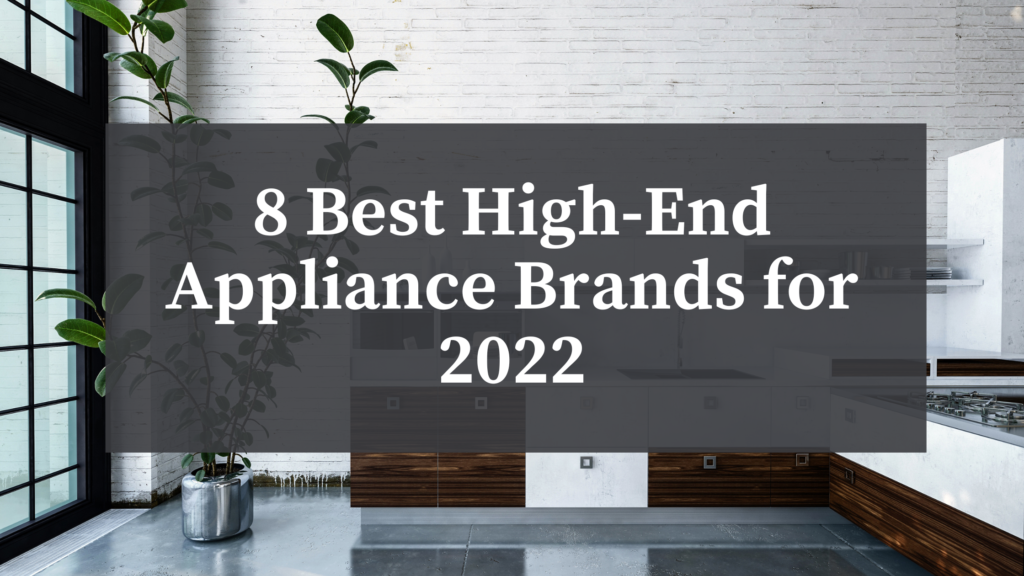 It's Your Kitchen—You Deserve the Best High-End Appliance Brands
The kitchen isn't just a place to cook–it's a feature of your home, where family and guests hang out. It stands to reason, then, that you'd want kitchen appliances that go beyond mere function, and also look as exceptional as your other home furnishings. You want a high-end appliances brand for your home.
What's the difference between a Rolex and a Timex? They both tell time, but a Rolex is a luxury statement made of premium materials as well as the best components to provide a more accurate and comprehensive measurement of time.
The same goes for your kitchen appliances. High-end finishes combined with what defines state-of-the-art technologies are an investment toward not only the future resale value of your home, but the incomparable satisfaction of working and living with the very best tools that reflect your lifestyle.
There are numerous high-end appliance brands. While what's best for your needs depends on a variety of factors—including personal taste, budget, and space requirements—generally speaking, you want the best combination of premium performance that complements your home decor as well as your food preparation needs.
So, if you're looking for the very best in high-end appliances, we here at BS Culinary have a few ideas. We carry a wide range of luxury brands, any one of which we can custom tailor to your kitchen. In this post we provide a list of eight best high-end kitchen appliance brands in 2022 that are the Rolexes of the industry:
Gaggenau
Lacanche
La Cornue
Miele
Sub-Zero, Wolf and Cove
Thermador
True
Hestan
Gaggenau
Gaggenau is a leading Germany-based luxury appliance brand with a complete line of ranges, cooktops, dishwashers, wine cabinets, refrigerators and freezers. Gaggenau appliances are designed to perform exceptionally well, inspiring the home chef to create masterpieces as accomplished as those emerging from a professional kitchen.
Take a look at any of these picture-perfect installations to see how Gaggenau combines taste and beauty with high performance. Consider these Gaggenau capabilities and how they enhance the potential personalized for your kitchen.
Gaggenau's success is based in technological innovation combined with distinctive design and functionality. Here are the Gaggenau appliances we carry at BSC.
Lacanche
As you might expect from the name, Lacanche (named after a small village in Burgundy, France where the company began designing premier kitchen ranges in 1908) specializes in handcrafted ranges customized in color, finish, and configuration, in both classic and modern variations of French design.
Lacanche firmly believes that the stove is the heart and soul of any kitchen. "The stove must of course be aesthetically pleasing and must play its full part in the decoration of this important living space. But it must also incorporate the finest cooking qualities so that the cook can express himself or herself with all the brio of a top-class chef."
Since these are handcrafted custom kitchen ranges, BSC does not inventory any Lacanche appliances, but we can arrange design, purchase, and of course, delivery and installation.
La Cornue
Another French-inspired handcrafted stove manufacturer is La Cornue. Materials include enamel, walnut, brass, and even leather. The company was also founded in 1908 when Albert Dupuy premiered the world's first convection oven. The company name is derived from the French "cornue," the system for refining the gas that fueled the oven.
View a series of videos that not only depict La Cornue stoves in action, but also offer cooking tips. Take a look at the masterpieces we can install in your kitchen.
Miele
Miele is another Germany-based designer and manufacturer of premium appliances that fulfill the founder's promise of "Immer Besser"—Better Living. It is one of the most popular high-end appliances in their home country. Miele values precision engineering and total control of the manufacturing process—nothing is outsourced. The aesthetic appeal is undeniable as is the product quality. You can expect a Miele appliance to last up to 20 years, and to look just as good in the twentieth year as in the first year.
If Miele's passion for distinctive, refined designs and superior performance weren't sufficient, now there is a further reason to consider Miele for your kitchen needs. Up until the end of 2022, you can take advantage of a special rebate worth up to $1,800 with the purchase of a qualifying Miele appliance package.
Sub-Zero, Wolf and Cove
The Sub-Zero name says it all. This Madison, Wisconsin family-owned-and-operated company pioneered customizable refrigeration units for food and wine storage in the widest available selections. Sister company Wolf specializes in luxury kitchen ranges, built-in ovens, and cooktops. And another sister company, Cove, offers premium outdoor kitchen products that feature the same high performance, quality and design as their indoor counterparts.
With the purchase of a qualifying Sub-Zero and Wolf appliance package, you are eligible for either three additional years of service protection or a $1,000 rebate. Visit our specialized Living Kitchen that goes beyond the normal kitchen display, and invites you to participate in a design experience with Sub-Zero and Wolf experts.
Thermador
Kitchen appliances made by Thermador offer unparalleled experience and innovation for any cooling, cooking, and dish care needs. Members of Consumer Reports rate Thermador as number one in reliability and equal to Miele in owner satisfaction. Thermador offers two collections, Masterpiece® and Professional, both of which are part of a smart kitchen you can control remotely with a click or voice command using the Home Connect™ app.
Sleek designs add richness to any kitchen design, and industry-leading technology helps transform premium quality into everything put on a plate. Shop now.
True
True Residential refrigeration units are available in side-by-side, bottom-freezer, wine column, beverage centers, and under counter units, for use both in outdoor and indoor kitchens. These appliances can also be customized in colors such as matte black and copper, matte white and gold, and cobalt and gold.
A division of the third-generation family owned-and-operated True® Manufacturing Company in St. Louis, True Residential delivers the finest in high-end, made-in-the-USA home refrigeration backed by a long legacy of commercial performance.
For more information, shop True.
Hestan
A combination of company founders Helen and Stanley Cheng, Hestan originally pioneered non-stick cookware in the 1970s before venturing into commercial kitchen manufacturing, which then led to an extensive line of high-end indoor and outdoor cooking appliances. The award-winning Hestan works with celebrated chefs to design appliances that represent the very best in both form and function.
Shop Hestan cooking, refrigeration, dishwashers, and outdoor kitchen appliances.
The Luxury Appliance Brand Experts
BSC is your source for premier high-end appliance brands. Of course, we offer a full range of other leading brand appliances as well, to fit any budget, any size kitchen, and any lifestyle needs.
Naturally, buying any appliance from BSC–but especially a high-end appliance–includes installation and delivery. A high-end benefit with your purchase is a dedicated Enjoy Life Counselor who ensures error-free delivery and installation. You can even track delivery on the day of the appointment.
BSC technicians are qualified and insured. We install your appliance according to all local codes and regulations and take the time to ensure your new high-end appliance provides premium performance to your complete satisfaction. If you prefer, BSC can provide contactless delivery.
Contact us today to select a high-end appliance that best fits your needs, and schedule a hassle-free installation. And be sure to keep an eye on this blog and also our resource center for more information on luxury appliance brands and other appliance topics.