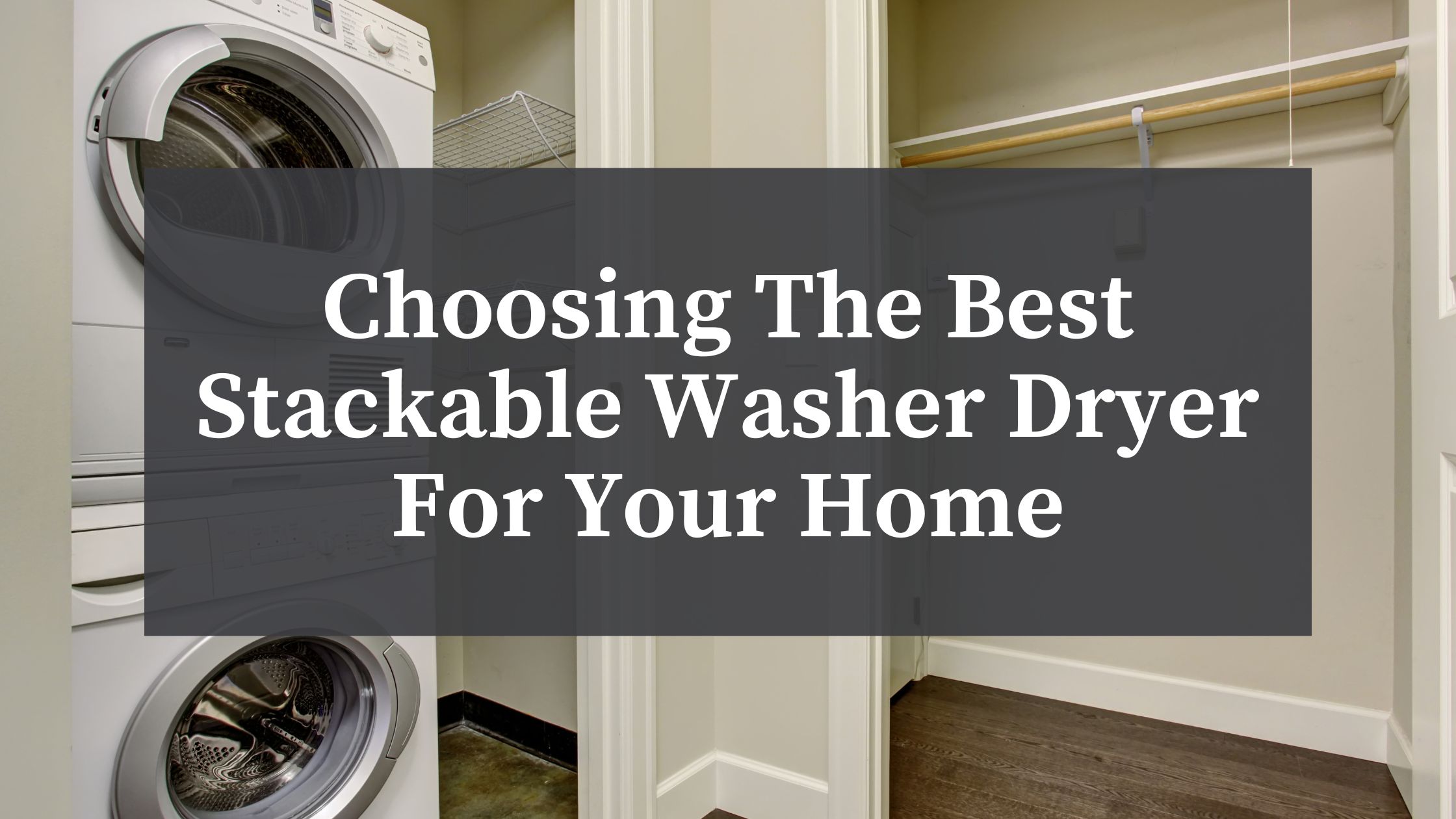 Best Stackable Washer Dryer Considerations
Before we explain what makes the best stackable washer dryer the best choice for your home, let's first explain what a stackable washer dryer is. A stackable washer dryer is exactly what the name says: two machines, a washer and a dryer, that are stacked on top of each other. If floor space is tight in your laundry room, the best stackable washer dryer takes up the same floor footprint as a single machine.
To help you choose the best stackable washer dryer (also sometimes known as a laundry center) for your home, let's take a look at key features and considerations that save space while also thoroughly and efficiently cleaning and drying your family's clothing.
Top Load vs Front Load
Stackable washer dryer units are available with both top-loading and front-loading washers. While most models feature a front-loading dryer and a top-loading washer, some have both a front-loading dryer and a front-loading washer, particularly models where you have the option to either stack them or place them side by side.
Some people prefer not to lean down to put laundry in and take it out. For these folks, the best stackable washer dryer is one with a top load washer. But other than personal preference, there are additional advantages to a top-loading washer compared to a front-loading washer:
Less expensive
Faster wash cycles
Handles larger laundry loads
Needs comparatively less cleaning and maintenance
Most top load washers clean clothes using an agitator, a central post that twists and turns to break apart soil and stains from clothing and fabrics. The problem with an agitator is that laundry often gets tangled around it, resulting in some exasperating efforts to get clothes free, not to mention the excessive wear and tear that may lead to fraying of certain delicate fabrics.
Front loaders offer higher performance, in terms of using less water than top loaders, which also means using less energy to heat that water during warm or hot water cycles. Many people prefer the look of a front loader, which appears more modern than the traditional washer. However, if you are really constrained by space, there may be situations where opening and closing a front loading door is inconvenient.
Size
The best stackable washer dryer is one that fits in your laundry space. Carefully measure the width of the area where you plan to use your stackable washer dryer. There are basically three available widths:
The smaller the width, the smaller the depth and height. The best stackable washer dryer size for you depends on whether the machine is just for you or you and your spouse, or if you have a larger family that needs a bigger appliance.
To make sure the best stackable washer dryer is the one that best fits your space, always carefully measure where it is going to go. The last thing you want is to discover, when the stackable washer dryer is delivered, that it doesn't quite fit as you need it to.
Capacity
Washer and dryer capacity is expressed in cubic feet. The larger the capacity, the more laundry you can effectively clean at once. Stackable washer capacity ranges anywhere from 2.3 cubic feet to around 5 cubic feet. Stackable dryer capacity is typically somewhere between 4.4 cubic feet and 7.4 cubic feet. The larger your family, the larger the capacity that your best stackable washer dryer choice will most likely have.
Electric or Gas
While the washer is always electric, gas is an option for the dryer component. Of course, if you don't have gas utility service, the best stackable washer dryer is electric. Note that some models require a 220-volt outlet, while some smaller units can use the household 110-volt standard.
However, if you do have a gas line, gas dryers are worth considering. Although gas dryers are generally more expensive, they are less costly to operate and can save you money on your utility bills in the long run. Also, gas powered heat is more gentle on clothing than electric powered heat.
Wash Cycles
Different stackable washer dryers offer different specialized wash cycles beyond the standard cycles of normal, heavy duty, whites, delicates, rinse, and spin. You might prefer models with such additional cycles as hand-wash, bulky items, permanent press, colors, soak, and/or extra rinse. Some models even offer a steam setting used to remove stains in the wash cycle, as well as for the dryer to freshen up clothing before wear.
Efficiency
The best stackable washer dryer is energy efficient, resulting in lower electric and water utility bills. Look for ENERGY STAR® certification to learn exactly how much you can expect to save. Generally speaking, ENERGY STAR certified washers are at least 25 percent more energy efficient, and use 33 percent less water than a standard washer. ENERGY STAR certified dryers are on average about 20 percent more efficient than standard models.
Nice Features to Have
Many stackable washer dryer models are "smart appliances," meaning you can operate them using an app on your smart device or even start them using voice commands. With some units, the washer and dryer "talk" to each other. The dryer selects the correct drying cycle for a laundry load based on information transmitted from the washer.
Another feature that's nice to have is a self-cleaning cycle. This helps ensure the interior of the appliance stays free of detergent buildup, mold, and mildew that can hamper not only a thorough cleaning of your clothes, but the operational efficiency of the stackable washer dryer.
Most stackable washer dryer models employ dial controls to choose settings and cycles. Some higher-end models feature digital and touchpad controls that are even easier to use, and some consider them to be more modern-looking.
Find the Best Stackable Washer Dryer
Your best stackable washer dryer is one you can afford. It is, however, a fairly large purchase. BSC is here to help you choose the best stackable washer dryer that fits your budget and your needs.
Every stackable washer dryer we sell includes installation and delivery. A dedicated Enjoy Life Counselor ensures error-free delivery and installation. You can even track delivery on the day of the appointment.
BSC installation technicians are qualified and insured. Your stackable washer dryer is installed professionally and to your complete satisfaction. If you prefer, BSC can provide contactless delivery, a trend that started with the pandemic and that we are happy to continue to offer.
Contact us to further discuss your best stackable washer dryer.