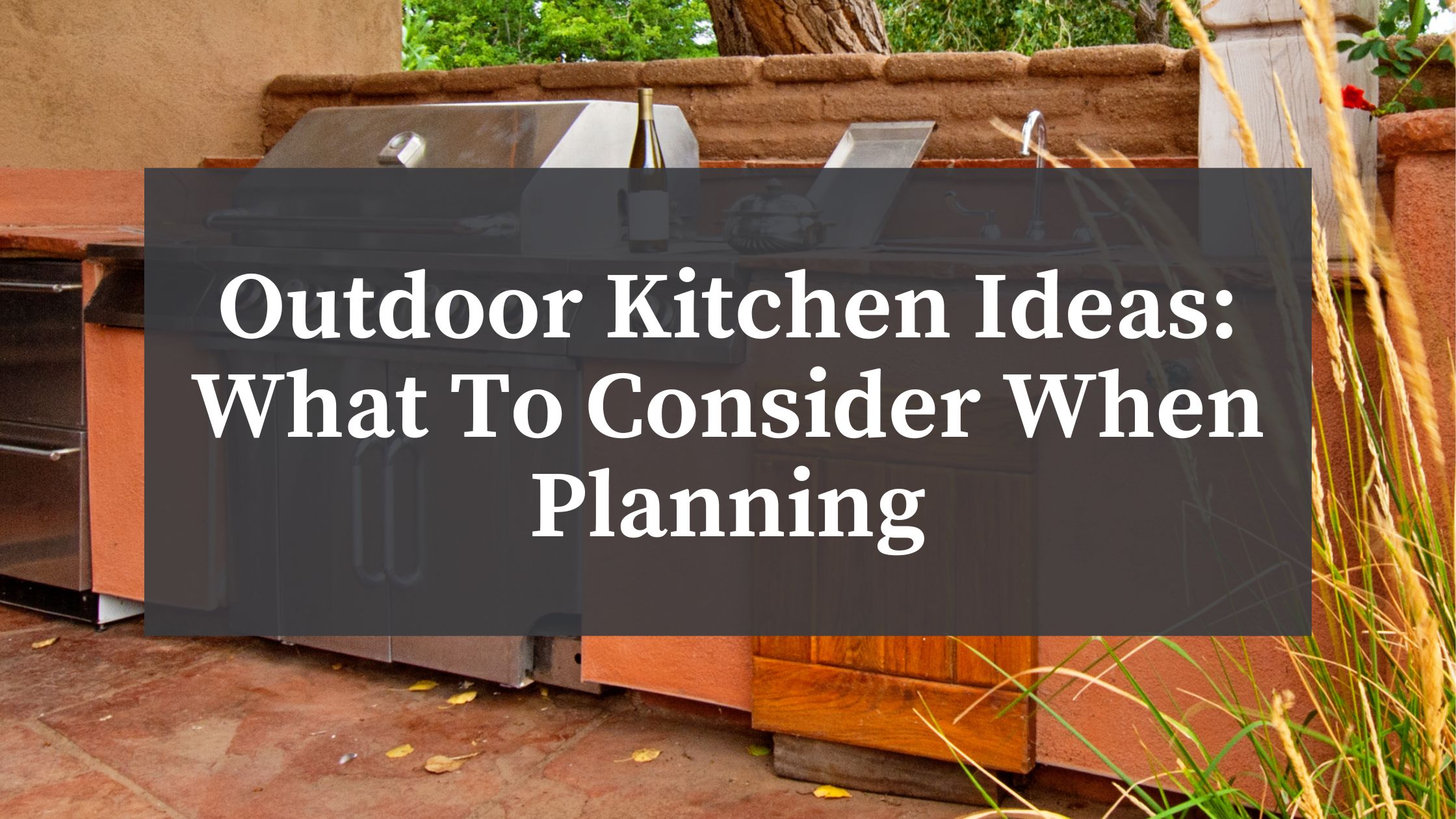 Beyond the Barbecue: Outdoor Kitchen Ideas
Looking for outdoor kitchen ideas that provide more options than just a barbecue grill and a pair of tongs? BSC has some outdoor kitchen ideas that can help you create the perfect poolside retreat, a modern entertainment extension of your indoor kitchen, or whatever design you have in mind to turn your vision into reality.
So in this post, let's look at what to consider when coming up with outdoor kitchen ideas.
Basic Building Blocks
Most outdoor kitchen ideas begin with a barbecue and adjoining work surface. From there, you might want to add a sink for food prep, as well as other amenities including an outdoor refrigerator and even an oven. Think about the frequency, size, and kinds of outdoor entertaining you do. Look at your indoor kitchen and list what you particularly like, and dislike, about it, and what features you'd like available outside. In addition, do you want the outdoor kitchen to match your indoor kitchen decor, or do you want to go into a different stylistic direction (and will that style work with your overall home design)?
At the planning stage, it's all about making a wish list. Then you adjust that list to fit your outdoor space, your design sense, your cooking and entertainment habits, as well as your budget.
Location, Location, Location
Where exactly do you locate your outdoor kitchen? As a general rule, you want to avoid cooking in full sunlight or in areas that are totally out in the open. If needed, some kind of roof should be part of your outdoor kitchen.
How far away is the outdoor kitchen from the indoor kitchen? If the outdoor kitchen is near the indoor kitchen, you probably don't need a refrigerator or a sink, or even a lot of food prep space, as that is all handy nearby. But the farther you are away from the house and the kitchen, the more the outdoor kitchen is a functioning space on its own, requiring its own storage and appliances to make cooking and food prep as convenient as possible.
Avoid placing an outdoor kitchen near any kind of wooden fence, gazebo, or other structure that presents a potential fire hazard. Many kitchen designers recommend positioning near a straight wall, or some other kind of natural indent that provides a visual boundary. Also, install the outdoor kitchen in an area as flat as possible as you'll need stable ground for cabinetry and appliances; the less leveling you need to do, the less expensive the construction of your outdoor kitchen.
Space Requirements
The kitchen triangle principle–sink, refrigerator, and stove being all within easy reach– equally applies to your outdoor kitchen (assuming you have all three appliances outside). Think about the flow in your indoor kitchen and apply it to your outdoor kitchen ideas.
Consider access routes, not just from within the working kitchen space, but also how family members and guests can move easily past the kitchen to the seating area. How are you going to use the outdoor kitchen for the most part? Primarily for family dining, for dinner parties, for larger social gatherings, or maybe all three? That's going to help quantify the practicality of your outdoor kitchen ideas, such as seating areas, appliances, and what you can accommodate in the space you have.
Materials
It almost goes without saying that any outdoor kitchen needs to withstand outside weather conditions. So your outdoor kitchen ideas and plans must include materials such as concrete, stainless steel, carbon steel, brick or stone, or composites. Which is not to rule wood out entirely; weatherproofed oak, for example, is a great choice if natural wood is central to the look of your outdoor kitchen ideas. In addition to durability, you want surface materials that are easy to clean and maintain.
Outdoor Appliances
Most outdoor kitchen ideas begin with a gas, electric, wood-pellet, or charcoal grill. When creating your wish list, also consider whether you want, as well as the practicality of, the following:
Cabinetry, Storage, and Plumbing
There's a wide variety of modular cabinets and storage options to choose from in assembling your outdoor kitchen. It's equally important to consider sinks, faucets, and outdoor bar centers. If thinking about all these outdoor kitchen ideas is sending your head spinning, consider outdoor kitchen kits that provide appliances and storage in a single package, though you do have to still select a countertop.
Entertainment
Your outdoor kitchen ideas also need to extend beyond cooking, cooling, washing, and storage selections. The outdoor kitchen is also an entertainment space. In addition to counters and seating for dining, also think about whether you want a fireplace or fire pit, which add both actual and visual warmth to the outdoor design. And if you just need extra warmth when things cool down, there are a number of different patio heaters to choose from.
Cost
It's important to determine how much you can afford to spend when making your outdoor kitchen ideas a reality. Obviously, the larger the outdoor kitchen, and the more appliances and features, the more it is going to cost. Also, the more customization your outdoor kitchen ideas involve, the higher the cost. Pre-built modular units help keep prices down, and you can always opt to add something freestanding later that isn't an absolute "must have" now, in order to stay within budget.
Maintenance
While outdoor kitchens are designed to withstand sometimes harsh outdoor conditions, that doesn't mean you don't need to regularly clean and maintain surfaces. Make sure any porous surfaces are properly sealed, or else stains from foods and liquids can permanently mar materials such as ceramic, porcelain, or concrete. Wipe stainless steel surfaces with warm soapy water, and never use abrasive cleaners. Cover appliances to protect them from rainfall. In general, follow manufacturer recommendations for all maintenance best practices. Your outdoor kitchen ideas must include these kinds of maintenance considerations.
Consult the Outdoor Kitchen Experts
Still have questions about fleshing out your outdoor kitchen ideas? BSC can help you plan and create an outdoor kitchen that best fits your needs, your outdoor space, and your budget.
In addition, we offer a range of outdoor kitchen cabinetry as well as premium high-end appliances from well-known outdoor living designers and manufacturers such as Urban Bonfire and Kalamazoo. BSC works with you to choose appliances and cabinetry and achieve an outdoor kitchen within your budget with the highest functionality.
Everything BSC sells includes installation and delivery. A dedicated Enjoy Life Counselor ensures error-free delivery and installation. You can even track delivery on the day of the appointment. If you prefer, BSC can provide contactless delivery.
Contact us to discuss your outdoor kitchen ideas.