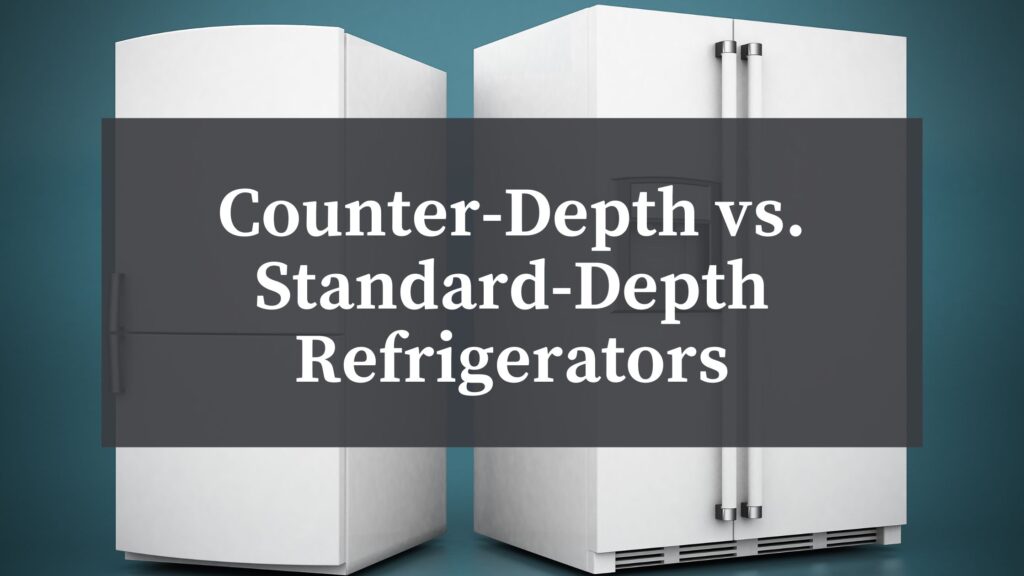 Looking for a new refrigerator? What size do you prefer?
Wondering if you are out of your depth in getting a new refrigerator? There was a time when a refrigerator was just a refrigerator and like it or not, you figured out somewhere to stick it in your kitchen. These days, in addition to everything from multiple color selections to a wide range of convenience options to wi-fi connectivity, there's a lot to take in. Which is where we here at BSC Culinary come in, to help you sort through all the details and consider what best fits your needs and budget.
For this post, let's focus on the difference between a counter-depth refrigerator and a standard-depth refrigerator. Which you prefer depends on whether you want a clean, flush look between your countertop and appliances, or if you want a deeper unit with increased storage space. To provide the information you need to help make that decision, let's look at:
What is a counter-depth refrigerator?
Counter-depth refrigerators are more space efficient, designed to fit in seamlessly with surrounding cabinetry and countertops, but without sacrificing the storage space of a "regular" refrigerator.
That's the definition of a counter-depth refrigerator. But what exactly constitutes counter-depth?
The distance from your backsplash to the front of your kitchen counter is your "counter-depth." In most kitchens, this depth is anywhere between 23 to 27 inches. In comparison, most full-size standard-depth refrigerators are more than 30 inches deep, often in the 35- to 36-inch range. Consequently, you can expect a traditional standard-depth refrigerator to extend as much and in some cases more than six inches from the edge of the countertop.
Note that counter-depth refrigerators aren't necessarily to the exact measurement of your countertops because you need room for the doors to open without rubbing against the adjacent counter space.
Counter-depth refrigerator benefits
A counter-depth refrigerator allows for seamless design. You don't sacrifice space for style, as the greater height of a counter-depth refrigerator provides as much storage space as a standard-depth refrigerator. At the same time, you have more space to maneuver in the kitchen; nothing protrudes from beyond the counter to impede walkways. In some configurations, counter-top refrigerators provide more clearance space to open doors.
What is a standard-depth refrigerator?
Stanndard-depth refrigerators are found in most home kitchens. They take up more space (up to 35 to 36 inches when including doors and handles), but, as the name implies, this is the widely accepted standard. Expect a standard refrigerator to stick out about six inches past the edge of the countertop.
Standard-depth refrigerator benefits
Since standard-depth refrigerators are more common, there's a greater selection of color, finishes, and styles. It also means you are less likely to wait for a particular model ordered from the factory.
Some people prefer the added depth and don't mind a slight protrusion from cabinetry and countertop (though it is possibly an issue in a particularly small kitchen). Standard-depth refrigerators generally cost less than counter-depth refrigerators. That's because manufacturers make more standard-depth refrigerators, which results in a lower unit-level cost. Counter-depth refrigerators also use thinner, and more costly, insulation material to provide nearly as much interior space as standard-depth refrigerators.
If you're doing a complete kitchen remodel, or building a new home and kitchen from scratch, consider investing in cabinetry that is 27 inches in depth to conceal the body of the standard-depth refrigerator. Another option is cut into the wall behind the refrigerator so it can slide back further and align with the cabinetry and countertop.
Refrigerator styles
Both counter- and standard-depth refrigerators are available in these four most popular styles:
How to measure your space
To see if and how any refrigerator, counter-depth or standard-depth, is going to fit into your kitchen space, perform the following:
Measure the width at the upper cabinet, countertop, and base levels where you intend to install the refrigerator. Measure the space at its narrowest point to ensure an accurate fit.
Measure the height from the floor to the lowest point on the upper cabinet. This involves two measurements. The first measurement is from the front of the space, and the second is at the back of the space. Don't be surprised if the measurements are not equal, in which case, use the shorter of the two.
Measure the proper depth from the back wall where the refrigerator is to go to the front edge of your counters.
Is there a kitchen island? Measure the distance between the island to the refrigerator. This is to ensure you have sufficient clearance for the delivered refrigerator to pass through the space.
Leave at least two inches from the back wall, one inch from the upper cabinet, and 1/8 inch on either side of the refrigerator to allow for air circulation. Proper air circulation ensures operational efficiency, avoids overheating, and improves life span.
Check the angle of the door swing and freezer drawers. Make sure there is plenty of room for each compartment to open without rubbing against cabinets, walls, or other nearby obstacles.
Also, in addition to measuring the installation space, avoid problems that might arise getting your refrigerator into your home and your kitchen. Measure hallways and any areas that could prevent a smooth installation. Find a direct route and do your best to avoid doorways, stairs, or narrow turns. When it comes time to receive delivery, remove furniture, rugs, and decorations ahead of time to prevent any damage or accidents.
Your refrigerator experts
BSC Culinary offers a variety of refrigerators for any kitchen style and budget. If you aren't confident in your measuring abilities, we can make sure the refrigerator you select—counter-depth or standard-depth—fits for a seamless installation. Every refrigerator we sell includes installation and delivery. A dedicated Enjoy Life Counselor ensures error-free delivery and installation. You can even track delivery on the day of the appointment.
BSC installation technicians are qualified and insured. Your counter-depth or standard-depth refrigerator is installed professionally and to your complete satisfaction. If you prefer, BSC can provide contactless delivery, a trend that started with the pandemic and that we are happy to continue to offer.
Contact us to discuss your ideal choice of refrigerator.