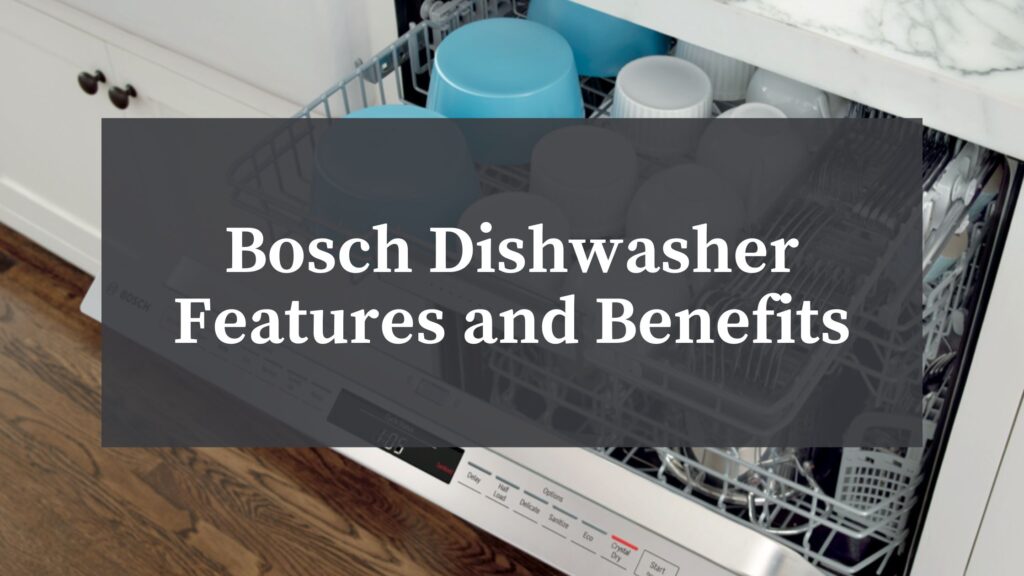 What to Consider When Buying a Bosch Dishwasher
Looking for a dishwasher that cleans thoroughly, is energy efficient, looks good, and offers convenient features? A Bosch dishwasher is always a good choice. Bosch dishwashers were named as "America's Most Trusted® Dishwasher" by Lifestory Research four years running from 2019-2022.
To help you make a buying decision that satisfies both your needs and your budget, let's take a look at the features and benefits of a Bosch dishwasher:
Size Options
A primary consideration for any potential dishwasher purchase is whether it fits in your kitchen. A Bosch dishwasher comes in basically two widths: standard 24-inch and 18-inch. The 24-inch fits most kitchens with the standard height of 33 ⅞-inches. The standard 24-inch is also available in an ADA (Americans with Disabilities Act)-compliant lower height of 32 1/16-inches.
For kitchens in smaller spaces, the 18-inch model is a better fit. The height of the 18-inch model is also ADA-compliant.
Bosch dishwashers are designed to install perfectly flush to provide a fully-integrated look in any kitchen.
Handle Options
Bosch dishwashers are available with a range of handle styles. These include:
Color/Finishes
The most popular Bosch dishwasher finish is stainless steel. If you're worried about fingerprints showing, there is a black stainless steel option.
You can also opt for traditional black or white; panel-ready models are outfitted with cabinet facings that integrate with your kitchen cabinetry.
Top or Front Controls
Control panels are located in one of two locations on a Bosch dishwasher: hidden on top or displayed on the front. It all depends on whether you prefer a clean aesthetic look or easy access to dishwasher settings.
Select Benchmark® Bosch dishwashers feature a high-definition color display that provides easy-to-read cycle status and maintenance information.
Bosch's PrecisionWash™
PrecisionWash™ technology is available on all Bosch dishwasher models. It helps when trying to decide what cycle to select to get various dishware and utensils cleaned the most efficiently. With PrecisionWash™, you just set it and forget it. Intelligent sensors continually scan washing status with precision spray arms to ensure the best possible cleaning results, no matter what you've loaded into the Bosch dishwasher. Whether a quick wash and rinse or a deep clean, the Bosch dishwasher figures out on its own how best to provide you with sparkling results.
Bosch's CrystalDry™, AutoAir™ or PureDry™ Drying
According to Bosch, CrystalDry™ technology transforms moisture into heat to get dishes, including plastics, 60% drier. It is available on the 800 Series Bosch dishwasher models. This patented technology uses natural minerals to collect moisture that it transforms into heat; hot air is then circulated throughout the dishwasher tub to dry contents.
AutoAir™ is available on the Bosch 500 Series dishwashers; it automatically releases the door at the end of the wash cycle to let moisture escape and fresh air in. The result is drier dishes. According to Bosch, AutoAir™ dries dishes 40% better than other drying methods because it doesn't rely on heaters or fans to force out heavy steam. If you have delicate or family heirloom dishware, this is a feature to consider.
PureDry™is the base drying system on all Bosch dishwasher models. A Sanitize Option ends each cycle with an extra hot wash, heating the water to 162˚F to help thoroughly clean, sanitize, and dry dishes.
Noise Level
Bosch claims some of the quietest dishwashers in the U.S. Different models have different decibel ratings. The quietest of all is the Bosch dishwasher Benchmark Series (33-39 decibels). The Ascenta Series is the loudest at 50 decibels, with other models falling in between 40 and 50 decibels. For comparison, 40 decibels is very quiet, akin to soft background music. If noise is a priority for you, you'd want a Bosch dishwasher at or close to 40 decibels, with anything less providing the utmost quiet.
Third Rack Options
Bosch dishwashers come with three different third rack designs to accommodate any kind of load.
The standard third rack for flatware and large utensils employs a unique "V" shape that leaves room on the middle rack for taller items like stemware.
The flexible third rack accommodates deeper items, with adjustable tines to customize the rack's loading space. It also has a unique V-shape with drop-down wings, adding 30% more loading area compared to a Bosch dishwasher with just two racks.
If you need maximum loading space, the MyWay™ Rack is the largest third rack, with enough room for cereal bowls and large utensils without sacrificing space in the rest of the dishwasher.
HomeConnect™
The HomeConnect™ app lets you remotely monitor and control your Bosch dishwasher from your smartphone or tablet for greater convenience. In addition, a service team can provide remote diagnostics in the event you encounter a problem with dishwasher operation. You can even use Amazon Alexa or Hey Google for hands-free voice operation.
If you are a techie kind of person, look for this feature on 800 Series front control Bosch dishwashers and 300 and 800 Series ADA-compliant models.
Leak Protection
Bosch's exclusive 24/7 Overflow Protection System closes the water inlet if the water level gets too high in the tub. This prevents leaks that can easily damage your kitchen floor. Some models take leak protection further with 24/7 AquaStop® sensors that not only close the water inlet, but also activate the drain pump if a leak is detected. 24/7 AquaStop® Plus provides an additional hose surrounding the water inlet hose for even more protection.
Energy Efficiency
Last, but hardly the least, consideration is energy efficiency. All Bosch dishwashers are ENERGY STAR® qualified.
Consult the Bosch Dishwasher Appliance Experts
BSC is proud to recommend a full range of Bosch dishwashers. We're here to help you choose the Bosch dishwasher that best fits your needs, the look of your kitchen, and your budget.
Every Bosch dishwasher/dryer we sell includes installation and delivery. Your dedicated Enjoy Life Counselor ensures error-free delivery and installation. You can even track delivery on the day of the appointment.
BSC installation technicians are qualified and insured. Your Bosch dishwasher is installed professionally and to your complete satisfaction. If you prefer, BSC can provide contactless delivery.
Contact us to further discuss the many features and benefits of Bosch dishwashers.