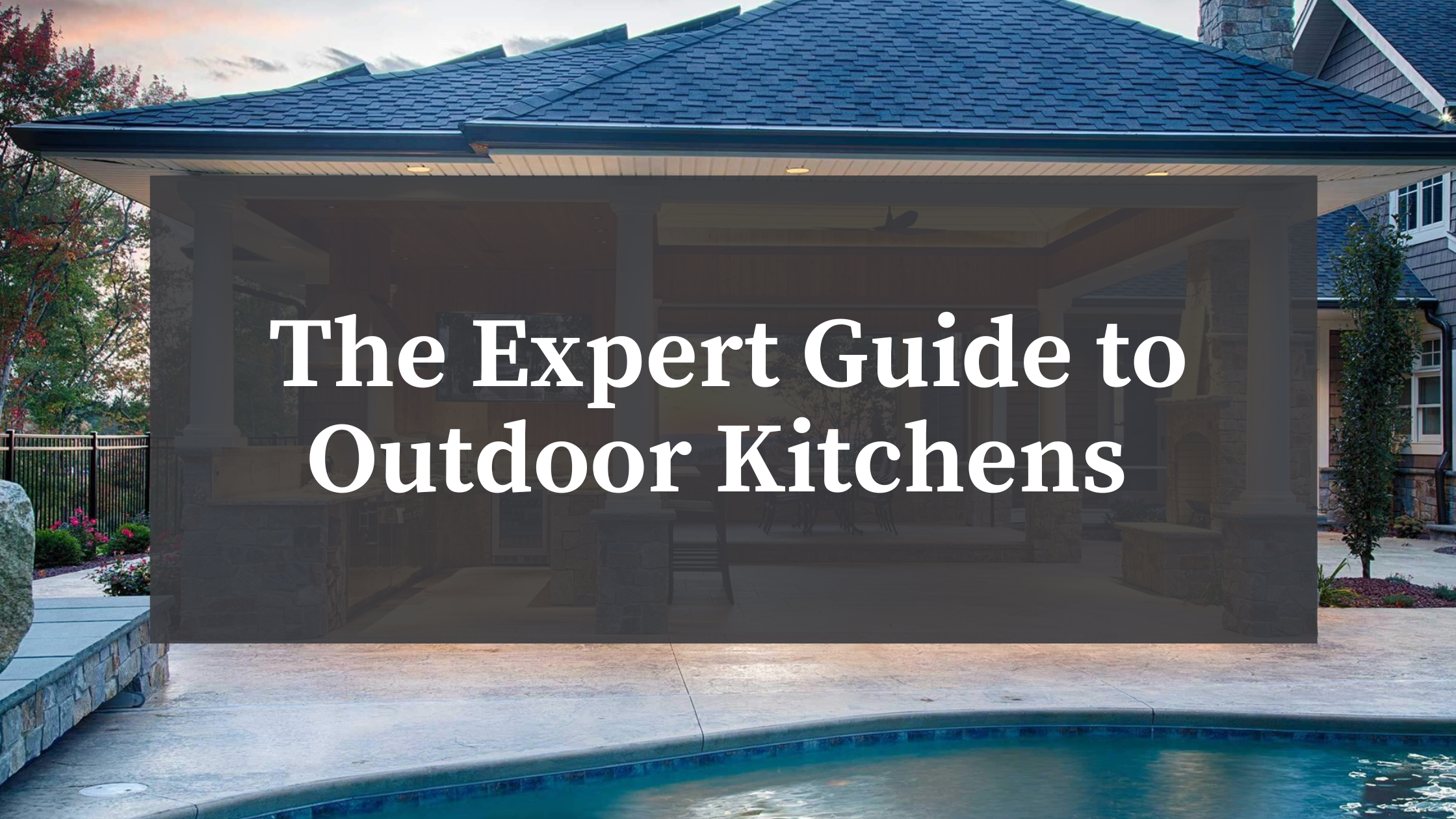 Create a First-Rate Outdoor Cooking Kitchen
In the past, outdoor cooking meant lighting up charcoal briquettes in a small portable grill. But now there are a lot more options than what your father or grandfather had. If you like to cook, you can have all the necessities and conveniences outdoors that you have in your home kitchen.
An outdoor kitchen is a fun alternative for family meals, a great space for entertaining, and a unique feature for your home.
Let's take a look at the types of outdoor cooking choices there are and what best fits your lifestyle, budget, and culinary needs:
Types of outdoor cooking kitchens
Outdoor cookout styles
How to plan and build an outdoor kitchen
Consult the outdoor cooking experts
Types of Outdoor Kitchens
There are basically three types of outdoor kitchens:
Movable: Actually a step-up from the camping-style grills of yesteryear, movable (sometimes called modular) charcoal or gas grills are sophisticated cooking systems, with attached storage shelving and food-prep counter spaces. Some units come equipped with multiple burners and even a small refrigerator. The added advantage is you can roll it out to wherever in the yard you like–a party in the garden one day, closer to the backyard deck the next, and in the garage or shed for winter storage. Just be sure to keep it at least 10 feet away from combustible materials, such as tree branches, wood decking and wood siding. Consider a movable outdoor kitchen if you think you want one but aren't quite sure how often you are going to really use it. If you decide you really like outdoor cooking, then you might consider the other more permanent options. Movable outdoor cooking is also the most affordable, with costs ranging roughly from $300 to $3,000, depending on fuel source, cooking surfaces and number of burners, materials, and dimensions.
Prefab: This is a more permanent cooking spot, in which the grill is set in outdoor cabinetry, much like a regular kitchen. The typical prefab outdoor kitchen consists of an island large enough to accommodate a drop-in grill, some storage, and counter space. A small refrigerator and custom lighting are add-ons. As the name implies, prefab setups are set up quickly, with usually no more than a day required for delivery and installation. Depending on choice of materials, dimensions, and number of burners, cost is anywhere between a couple thousand dollars upwards to $30,000.
Custom: When you get to the higher end of prefab budgets, you might want to consider custom installation, particularly if all your wants and desires aren't completely filled by a prefab. The advantages of custom are larger layouts,a wider choice of finishes and materials, and added conveniences such as wet bars and pizza ovens and customized styling. Perhaps only for serious cooks and entertainers, custom kitchens can easily run in the $50,000-and-up range.
Outdoor Kitchen Styles
Outdoor kitchen styles should match the style of your home and/or your outdoor lawn and garden area. Traditional homes usually opt for some type of mortared brick or stone facade that reflects foundation walls. The outdoor kitchen cabinetry of a more rustic style might match stucco or colors that match surrounding plantings and garden walls. Contemporary styling features sleek lines and polished finishes, such as stainless steel. Ultimately, though, it's up to the homeowner's preferences. Keep in mind that regardless of styling, a well-designed outdoor kitchen is functional, putting everything you need within convenient reach as well as accommodating seating for family and entertaining.
How To Design and Build an Outdoor Kitchen
Obviously, a movable outdoor kitchen is just a matter of deciding on the make and model and then selecting a convenient spot (or, really, any spot since it is easily movable). For prefab and custom kitchens, there are a number of design considerations, including:
Location (Close to the home itself is usually recommended, but there may be other considerations to accommodate. Keep in mind that closer to home lets you avoid hauling food and supplies across lawn spaces; the house can provide some shelter and protection from weather; and it is less expensive to run utilities a short distance from the house.)
Freestanding or building along a wall
Number of cooks (if two people are likely to cook at the same time, two cooks require their own accommodations)
Storage needs
Fuel source: electric, gas and/or freestanding propane
L-shape, U-shape, or island shape configuration
Base materials
Countertop material (granite, stainless steel, ceramic tile, concrete)
Cabinetry
Sink(s)
Cooktop(s), oven(s), fryer(s)
Refrigeration
Appliances (wine coolers, kegolator, drink dispenser, extra burners, smokers, ice makers)
Utility hook-ups
Seating arrangements
Roof coverings (awning, pergola, umbrella)
Local weather conditions
Add-ons, such as a portable heater, portable fan, fold-up benches, or rolling cooler
Hardscaping around installation
Budget (We've listed the budget last, but budget dictates almost all of the above considerations.)
Generally speaking, you want at least 12 inches of counter space next to the cooktop grill, and 24 inches if possible. Alongside a sink, the rule of thumb is 18 inches on each side.
Check with your local municipal authority as to whether you need a permit to build your outdoor kitchen. If you are running any utility lines, you definitely need a permit before proceeding.
You won't need a permit for a movable kitchen, and in some cases not even for a prefab island. However, it's best to check, as installing without a permit can result in penalties. Also, if you do need a permit, prepare for a possible tax increase as a result of what is considered to be a home improvement.
If you have the DIY skills to build it yourself, have fun! Even so, it is advisable to consult a kitchen designer, especially an outdoor kitchen designer. If you need a contractor, it is best to work with a contractor experienced in kitchen installation at least and preferably outdoor kitchen installation.
If temperatures in your area are likely to drop below freezing, some winterizing is necessary. This usually doesn't involve more than cleaning and covering the grill area, unplugging all appliances, and shutting off and draining water supply pipes.
Consult the Outdoor Cooking Experts
BSC is your source for premier outdoor kitchen appliances, cabinetry and design resources to fit any budget, size, and lifestyle needs. We carry a range of grills from leading manufacturers such as Kalamazoo, Hestan, Lynx, Wolf, DCS, Coyote, Woodstone, Memphis, Evo, and Fire Magic. And we can build your outdoor kitchen to your exact specifications.
Buying any outdoor kitchen appliances and cabinetry from BSC includes installation and delivery. An added benefit is a dedicated Enjoy Life Counselor who ensures error-free delivery and installation. You can even track delivery on the day of the appointment.
BSC technicians are qualified and insured. We install your outdoor kitchen according to all local codes and regulations and take the time to ensure your new outdoor kitchen provides premium performance to your complete satisfaction. If you prefer, BSC can provide contactless delivery.
Contact us today to discuss an outdoor kitchen plan that best fits your needs, and schedule a hassle-free installation. And keep an eye on this blog and our resource center for more appliance-focused content!